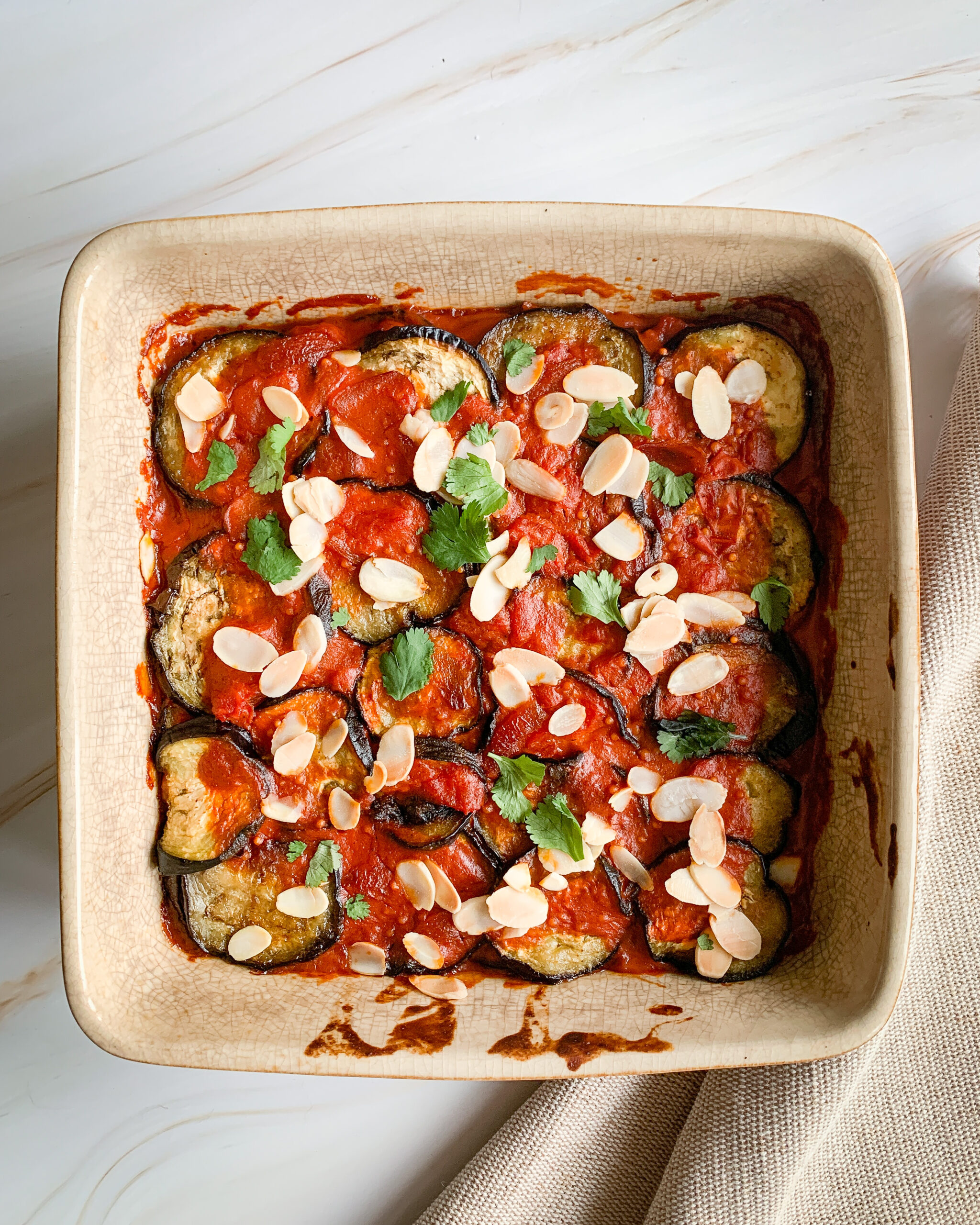 Aubergine has got to be one of my favourite vegetables! Especially on a plant-based diet, it's very meaty and versatile as an ingredient! This dish is like a lasagne without the cheese! The tomato sauce is rich with a hint of heat! Enjoy! Adam x ?⁠

[ RECIPE ] Indian-Spiced Aubergine
Ingredients
2 Aubergines (cut into thin slices)
1 tablespoon Rapeseed Oil
1 tablespoon Coconut Oil
1 Brown Onion (finely chopped)
2 Garlic Cloves (finely chopped)
2 teaspoons Yellow Mustard Seeds
¼ teaspoon Ground Fenugreek
¼ teaspoon Cayenne Pepper
½ teaspoon Mild Chilli Powder
½ teaspoon Ground Coriander
½ teaspoon Ground Coriander
2 teaspoons Garam Masala
½ Cinnamon Stick
400g Can Chopped Tomatoes
200ml Coconut Milk
3 tablespoons Flaked Almonds

Serve with Fresh Coriander
Instructions
Pre-heat the oven to 200C (fan-assisted). Place the aubergine slices onto a baking tray in a single layer and add the rapeseed oil. Cook for 10 minutes, then turn each slice over and return to the oven for a further 5 minutes.
Reduce the oven heat to 160C (fan-assisted). Add the coconut oil to a large casserole dish then add the onions and fry for 5 minutes. Next add the garlic and spices and continue to cook for an additional 1-2 minutes.
Add the chopped tomatoes and coconut milk. Season well with salt & freshly ground pepper and simmer for 2 minutes.
Spoon a third of the tomato sauce along the bottom of an ovenproof dish, then add half the aubergine slices. Repeat this process two more times then sprinkle over the flaked almonds. Bake for 25 minutes and serve with fresh coriander.