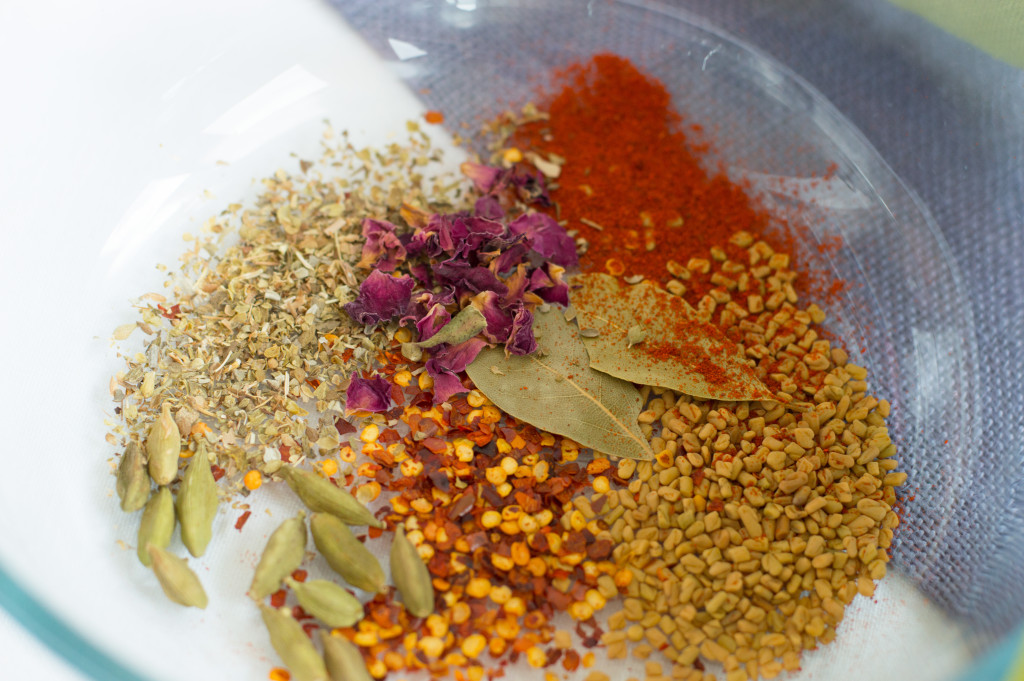 When it comes to cooking often, especially new and exciting recipes, it's really important to have a good stock of the essential items and replace them as you go along. 
If you are just starting to get into cooking, it can be expensive to buy everything at once but the chances are you will have some of the items I've listed anyway. 
I decided to publish a non-exhaustive list of what I would consider essential ingredients to have in your storecupboard, so that when it comes to choosing a recipe you'll only need to gather a couple of additional items instead of a huge shopping list. 
There's also a whiteboard on top of the fridge that help remind me to purchase additional items that can be located in many exotic places such as the Asian Market. That way when you come to buying recipe ingredients, you know you already have the main items in your own stock. 
It is also useful to have a good proportion of these items incase you're not sure what you want to have when you get in, but will have a number of options ready. It will also make things much cheaper for you by building meals from scratch, instead of buying ready-meals, as the chances are you'll have leftovers which can be 'bulked out' and stretched further, along with your budget! 
---

Flavourings
Black Peppercorns
Sea Salt
Various Oils – Olive, Coconut, Rapeseed, Groundnut, Sesame, Vegetable & Extra Virgin (for salads)
Honey
Tomato Puree
Passata
Thai Curry Paste – Red & Green

Dried Herbs & Spices
Allspice
Bay Leaves
Bouquet Garni
Caraway Seeds
Cardamoms (whole)
Cajun blend
Cayenne Pepper
Chillies (crushed)
Chilli Powder (mild & hot)
Chinese 5-Spice
Cinnamon Sticks
Cinnamon (ground)
Cloves (whole)
Coriander (ground)
Coriander Seeds
Cumin (ground)
Cumin Seeds
Curry Powder
Dill
Fennel Seeds
Garam Masala
Garlic Granules
Ginger (ground)
Mace Blades
Kashmiri Chilli Powder
Mint
Mixed Spice (ground)
Mustard Seeds (yellow)
Nutmeg (ground)
Onion Powder
Oregano (dried)
Paprika
Piri Piri
Rose Petals
Saffron Threads
Smoked Paprika
Star Anise
Sumac
Thyme
Turmeric (ground)
Vanilla Pod
Za'atar


Canned & Jarred
English Mustard
Dijon Mustard
Coconut Milk
Anchovies
Roasted Peppers


Sauces & Stocks
Fish Sauce
Soy Sauce – Dark, Light
Worcestershire Sauce
Vinegars – Red Wine, White Wine, Cider, Balsamic, Rice Wine
Stock Cubes – Beef, Chicken, Fish & Vegetable
Tomato Ketchup
BBQ Sauce
Sriracha Hot Sauce
Tabasco


Beans & Pulses
Kidney Beans
Cannellini Beans
Pinto Beans
Haricot Beans
Borlotti Beans
Black Beans
Black-Eyed Beans
Chickpeas
Puy Lentils
Red Lentils
Yellow & Green Split Peas


Grains, Pasta & Noodles
Rice – Basmati, Brown, Arborio
Wholewheat Spaghetti
Fusili
Conchiglie
Penne
Egg Noodles