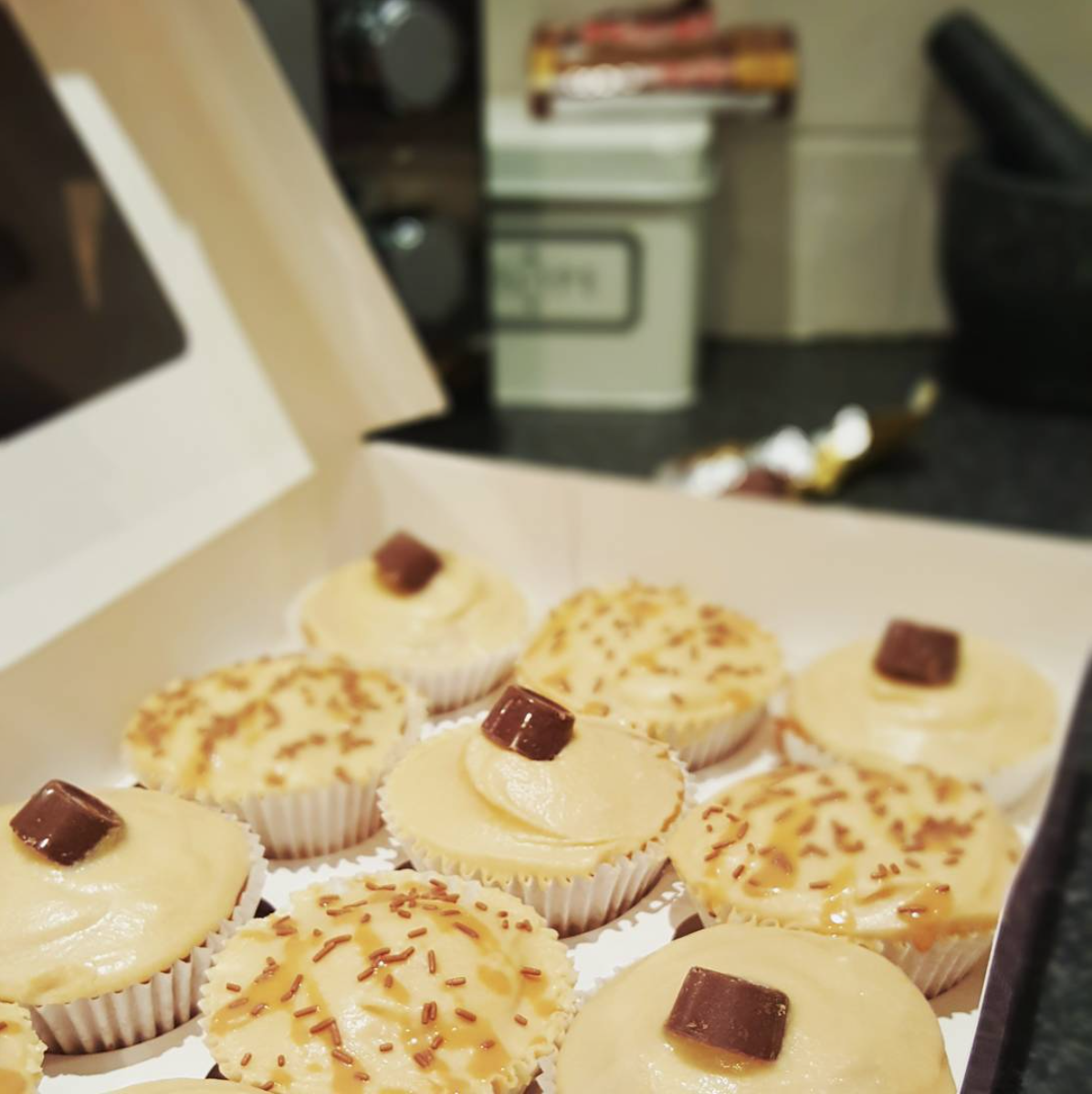 Hello you beautiful people! I was doing a search through my archives trying to be organised (and failing somewhat) when I realised that this particular baking recipe wasn't actually on my blog.
I use my blog for almost every recipe I've already attempted so that all the recipes I really like are all in one convenient place, but this one was missing!
So whilst my girlfriend sits on the floor contemplating what pumpkin design to go for (I would be of no use whatsoever when it comes to art!), I thought I'd type this up and share with you guys.
This is my failsafe cupcake recipe and has never failed to deliver.
I think you need a basic recipe and then from there you can develop your own twists such as decorations, frosting, what to put in the middle etc, the list goes on!
So enjoy this recipe and feel free to share your own on Twitter via my handle @adgold86 or on instagram under @foodandfitnessalways – thank you! 🙂
Adam Warren 

Vanilla Cupcakes
Ingredients
What You'll Need
1 Large Plastic Mixing Bowl
Electric Scales
Measuring Spoons
Electric Whisk
1 Measuring Jug
1 Metal Spoon
Spatula

Ingredients
240g Plain Flour
280g Caster Sugar
1 tablespoon (3 sachets) Baking Powder
¼ teaspoon Salt
80g Unsalted Butter/Stork

240ml Whole Milk
2 Eggs
½ teaspoon Vanilla Extract

Vanilla Frosting
160g Unsalted Butter
500g Icing Sugar
50ml Whole Milk
few drops of Vanilla Extract
Instructions
Put the flour, sugar, baking powder, salt and butter in a large bowl and beat on a slow speed using an electric whisk until you get a sandy consistency and everything is combined.
Preheat the oven to 170C
Gradually pour in the milk and beat until the milk is just incorporated.
Whisk the egg and vanilla extract into the flour mixture and continue beating until just incorporated (scrape any unmixed ingredients from the side of the bowl with a rubber spatula).
Continue mixing until the mixture is smooth. Do not overmix.
Pour the mixture into a measuring jug to pour easier into the paper cases.
Spoon the mixture into the paper case until two-thirds full and bake in the preheated oven for 20 minutes, or until light golden and the sponge bounces back when touched (a skewer inserted in the centre should come out clean).
Leave the cupcakes to cool slightly in the tray before turning out onto a wire cooling rack to cool completely.
When the cupcakes have cooled spoon the frosting on top and decorate with hundreds and thousands (or however you like!).
To make the vanilla frosting, beat the icing sugar and butter together using a wooden spoon and then an electric whisk on a medium-slow speed until the mixture comes together and has mixed through.
In a separate bowl, combine the milk and vanilla extract then add to the butter mixture a few spoonfuls at a time.
Once all the milk has been incorporated, turn the whisk up to a high speed and continue beating until the frosting is light and fluffy, at least 5 minutes (the longer the frosting is beaten, the fluffier and lighter it becomes.
It should be wet enough to allow the buttercream to pipe easily.