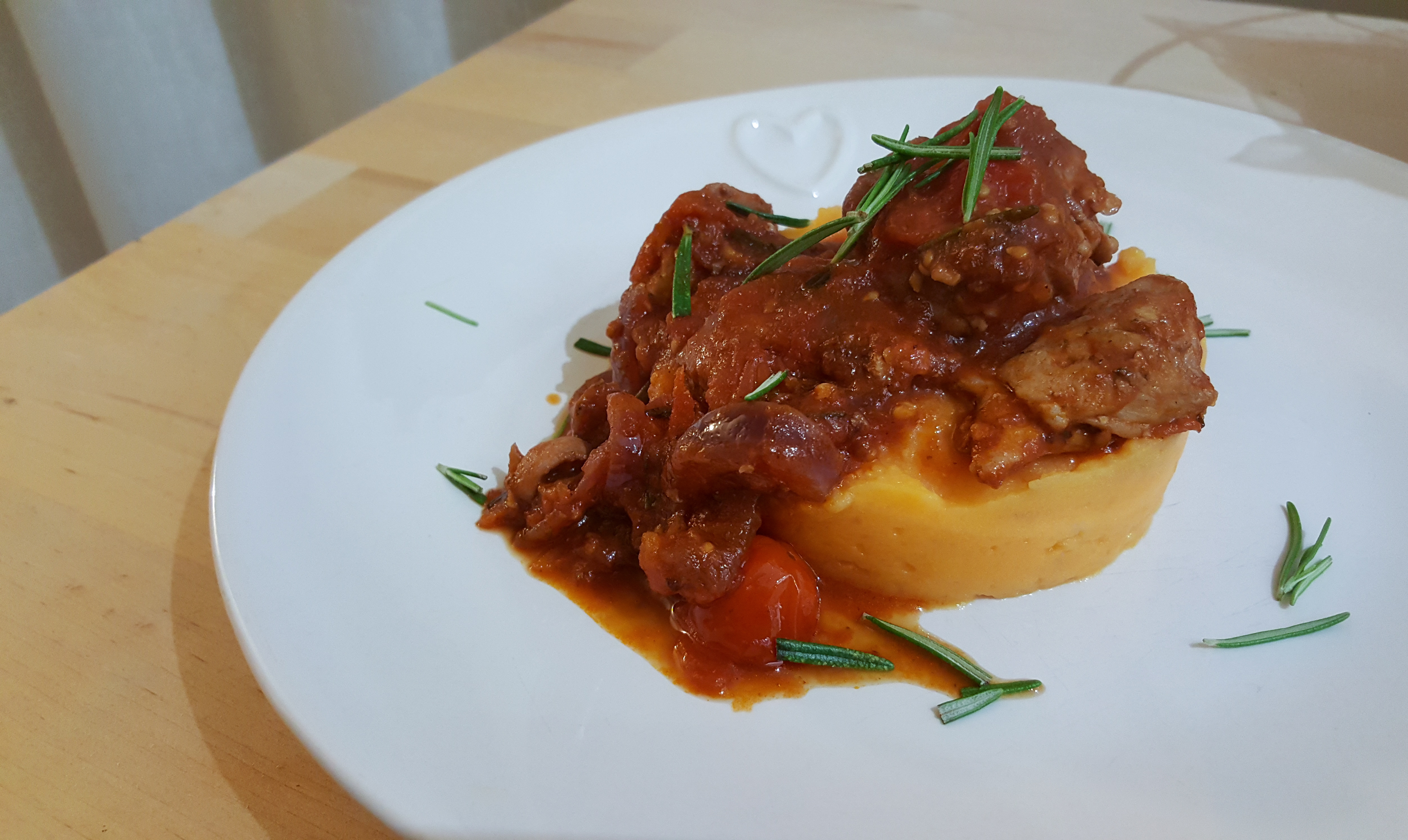 I absolutely love Rosemary! It's beautifully fragrant and can transform a dish from something ordinary to something really fresh and exciting. I want to share this recipe with you because it is a favourite of mine and very easy to do, especially if you keep the basics in your cupboards, you shouldn't need to buy many of the ingredients (which is always a plus!).
I'm also sharing this as it's an Italian recipe and I love Italian food. It's all about fresh ingredients so make sure you keep that in mind when you're out shopping. It's definitely one of my favourite types of cuisine! 
Enjoy!
Rosemary Chicken in Tomato Sauce
Ingredients
Olive Oil
400g Boneless Chicken Thighs (cut into pieces)
1 Red Onion (chopped)
1 Rosemary Sprig (finely chopped)
3 Garlic Cloves (crushed)
400g Can Chopped Tomatoes
75ml Red Wine (or Water)
Salt & Freshly Ground Pepper
Handful of Cherry Tomatoes (halved)
Serve With: Mixed Potato Mash
Instructions
Heat a large casserole dish on a medium heat and add some olive oil.
After a few minutes add the chicken thigh pieces and cook for 8-10 minutes until browned.
Remove the chicken thighs onto a side plate then add the rosemary leaves to the casserole dish along with the red onion and fry for a few minutes.
Add the crushed garlic and continue to cook for a further 2 minutes.
Next add the chopped tomatoes, red wine and a good amount of seasoning then return the chicken thigh pieces to the casserole dish along with the additional cherry tomatoes.
Place the lid on the casserole dish, bring to the boil then reduce the heat to low and simmer for 20 minutes.
Once the time is up remove the lid and increase the heat if the sauce needs to be reduced, then serve with a mixed potato mash and some salad.