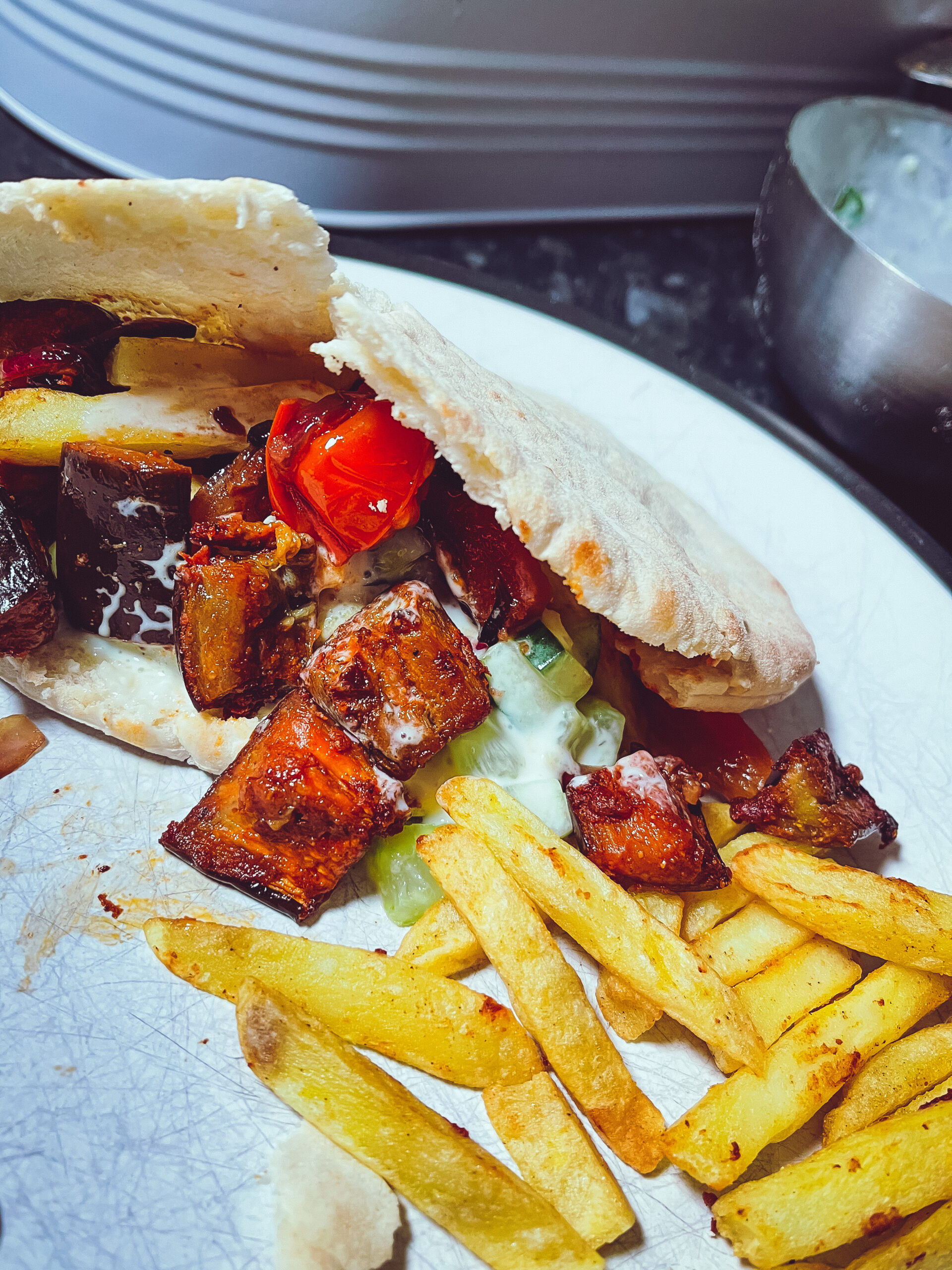 [ RECIPE ] Aubergine & Tzatziki Pittas
Ingredients
1½ Aubergines (cut into equally small chunks)
2 teaspoons Ras el Hanout
2 teaspoons Maple Syrup
4 tablespoons Tomato Purée
Salt & Pepper
2 tablespoons Olive Oil

Tzatziki Ingredients
½ Cucumber (finely chopped)
5 tablespoons Vegan Plain Yoghurt
1 Garlic Clove (crushed)
1 tablespoon Lemon Juice
Fresh Mint Leaves (finely chopped)
Salt & Freshly Ground Pepper

Remaining Ingredients
1 tablespoon Olive Oil
1 Red Onion (sliced)
Jarred Roasted Peppers (cut into small chunks)
¼ teaspoon Chilli Flakes
100g Cherry Tomatoes (halved)
Pickled Red Cabbage (optional)
1 tablespoon Lemon Juice
4 Fresh Pittas
Instructions
Pre-heat the oven to 200C (fan-assisted). Once hot enough add the aubergine chunks to a large baking tray along with the ras el hanout, maple syrup, tomato purée, seasoning and olive oil. Mix the ingredients with clean hands then bake for 20-25 minutes.
Meanwhile combine the tzatziki ingredients into a small bowl along with some additional seasoning (taste and add more seasoning if necessary) then set-aside.
Heat a small saucepan on a medium heat and add the olive oil. Once hot enough add the red onion and fry for 3-5 minutes until softened. Then add the chilli flakes, cherry tomatoes and lemon juice and cook for a further 5 minutes then set-aside into a small bowl.
Remove the aubergine chunks from the oven and heat the pittas according to packet instructions. Carefully slice the top of each pitta to open it out, then add a few tablespoons of the tzatziki, along with the aubergine chunks, onions, peppers, tomatoes and pickled red cabbage (optional) and then serve.