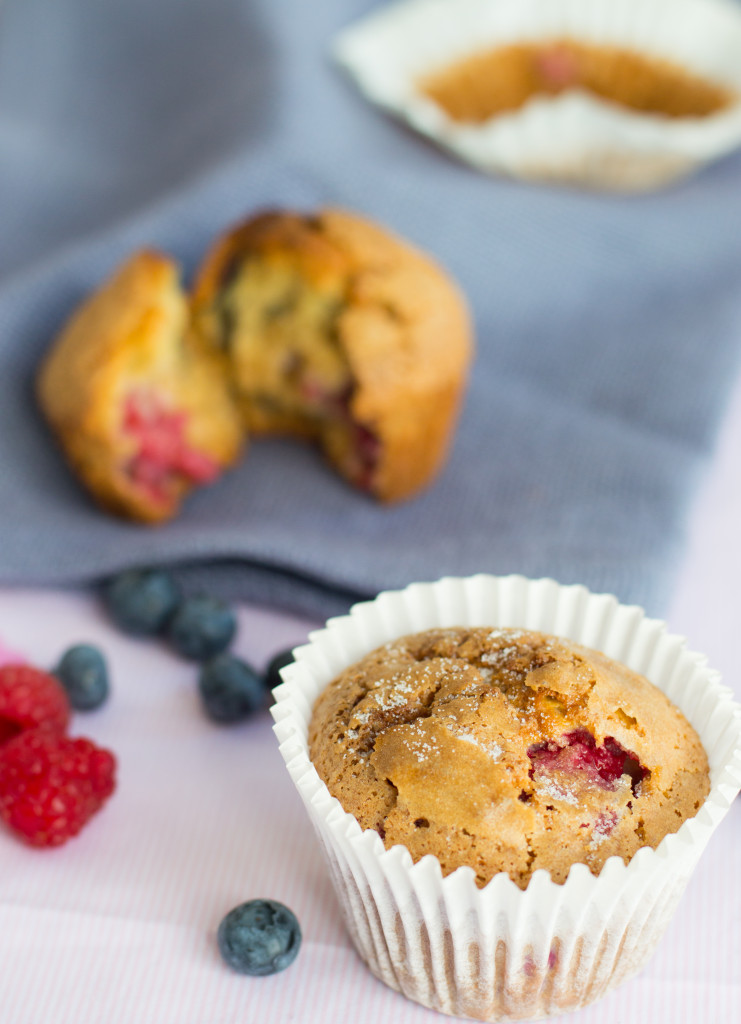 It's been quite some time since I last had a muffin. It's not that I don't like them (far from it actually!) I just seem to bake alternative things, but I'm so glad I took the opportunity to make these Mixed Berry Muffins because honestly, they were so tasty!
The combination of raspberries and blueberries creates a wonderful balance of flavours with the sponge itself, plus they're very pleasing on the eye! 
You can use alternative berries if you have them in stock, but these really do work great together. Enjoy!
Makes approx. 12 Muffins   |  One 12-Hole Muffin Tin  |  Muffin Cases
300g Plain Flour
115g Caster Sugar
1 tablespoon Baking Powder
1/2 teaspoon Bicarbonate of Soda
1/4 teaspoon Salt
250ml Whole Milk
2 Large Eggs
1 teaspoon Vanilla Essence

85g Unsalted Butter (melted)
80g Fresh Raspberries (halved)
80g Fresh Blueberries
30g Caster Sugar (for sprinkling)
Sift together the flour, caster sugar, baking powder, bicarbonate of soda and salt and place in a large bowl. Add the eggs and vanilla essence and mix together by hand until you get a crumb-like consistency (2-3 minutes). 
Add the milk to a large enough jug. Make a hole in the centre of the mixture and slowly add the milk whilst whisking on a low-medium setting. 
Once all of the milk has been incorporated, increase the speed to medium and continue beating until the batter has thickened up and smooth (3-4 minutes). 
Melt the butter on a low setting in a small saucepan and leave for 5 minutes to cool down. 
Pre-heat the oven to 180C (fan-assisted) or 190C (conventional) and line the muffin tin with the muffin cases. 
Add the melted butter to the batter and whisk again until it has fully incorporated (1 minute approximately). 
Carefully stir in the mixed berries using a spoon, then pour the mixture into a large enough jug and from this jug, pour the batter into the muffin cases so that they are two-thirds full. 
Sprinkle the remaining sugar evenly over the muffins and bake for approximately 30 minutes. 
Remove from the oven and leave in the cases for 10 minutes or so before removing onto a wire rack to fully cool.