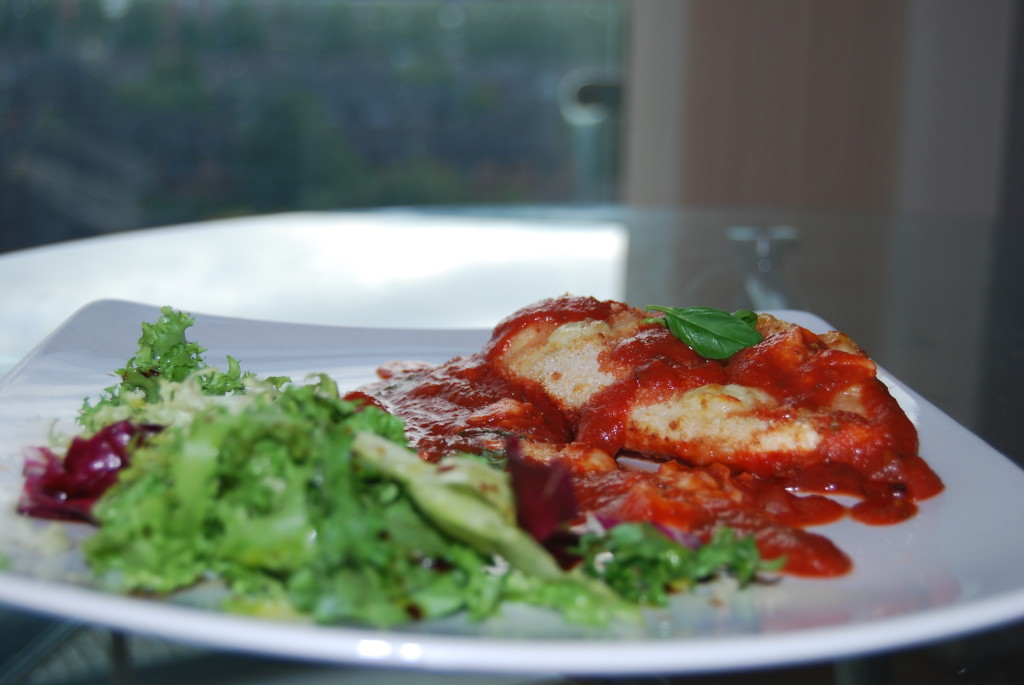 Continuing on the Italian theme of food I thought I'd bring you this wonderfully simple, but very tasty dish. Unlike the actual spelling of the dish (which admittedly I did have trouble over!) there are only a very steps involved in making the recipe. This means that once you've prepared, chopped and crushed the ingredients (which can be done in advance) this dish can easily be ready and on the table in 20 minutes.
My advice would be to serve it with a large, crisp salad and even potatoes or pasta.
Serves 2
– Ingredients
2 x Large Chicken Breasts (cut in half horizontally)
2 x Eggs (beaten)
Breadcrumbs (to sprinkle)
Olive Oil (for pan)2 x Garlic Cloves
500ml x Passata
1tsp x Caster Sugar
1tsp x Dried Oregano
1/2 Ball x Mozzarella (torn up)
Salt & Pepper (for seasoning)
Baby Tomatoes (chopped)
Fresh Basil
– Method
1. Place the chicken breasts on top of some greaseproof paper and season well.
2. Cover the chicken with extra greaseproof paper and bash with a rolling pin until they are a few centimeters thick.
3. Dip each chicken breast into the beaten egg to coat and then place on a plate.
4. Generously sprinkle over the breadcrumbs until fully coated on both sides of the chicken and place in the fridge whilst preparing the sauce.
5. Heat a medium-sized frying pan with some olive oil and at a medium heat add the garlic for a minute.
6. Add the passata, oregano and sugar to the pan. Season with salt and pepper then gently simmer for 10 minutes. If the sauce bubbles vigourously, remove from the hob for a minute and reduce the heat.
7. Pre-heat the grill to high and place the chicken breasts under for 5 minutes each side, then remove.
8. Pour the tomato sauce from the pan into a shallow ovenproof dish and add the chicken. Then add the tomatoes, basil and mozzarella evenly.
9. Add the dish to the grill for 4-5 minutes whilst keeping an eye on it.
10. Once the sauce is bubbling and the cheese has fully melted remove from the grill and serve.
(Source:  BBC Good Food Magazine)