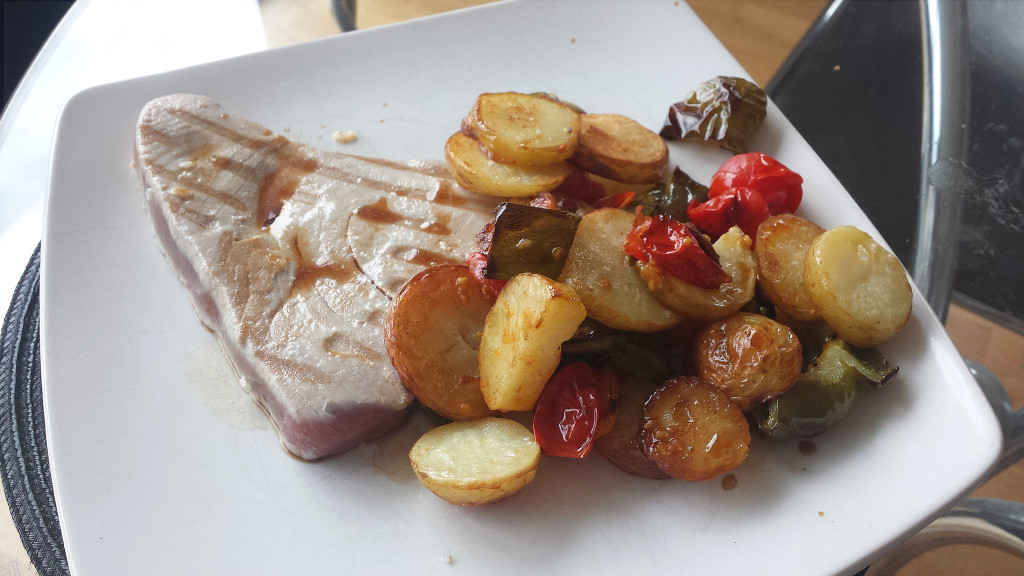 Guys, I've made a huge decision… I've decided to finally subscribe to BBC Goodfood Magazine for at least 6 months. I mean I'm constantly trying new recipes and diving in to new skills and techniques so it makes sense to get involved with a well-established magazine with excellent recipe ideas.
It was quite an easy decision anyway, there was an offer on regarding Rick Stein's new book on 'Fish & Shellfish' which I'd planned to buy from Amazon for £17 however it was free if I subscribed to BBC Goodfood Magazine for £17! It's great when you can actually make the most of offers that are beneficial to you.
Today's recipe has been adapted from the BBC Goodfood website's recipe and uses one of my absolute favourite types of fish, Tuna Steak. I can't believe I only discovered this type of fish 5 months ago! It's really important to serve it on the rarer side because a well-done Tuna Steak is too chewy and, in my opinion, ruins the flavour of it.
To ensure that it's warm in the middle whilst still being on the rarer side, remove the steak from the fridge at least 30 minutes prior to cooking as it should be at room temperature when you begin cooking it.
This is a delicious recipe that I've enjoyed time and time again. It's the kind of dish that doesn't require a huge supermarket shop to gather the ingredients from (which is always a bonus). Enjoy!

– Ingredients
1 x Tuna Steak (per person)
Olive Oil
2 tbsp x Sesame Oil
2 x Garlic Cloves (crushed)
2 x Thyme Sprigs
6 x New Potatoes (sliced 1cm thick)
2 x Red Peppers (cut into chunks)
1 x Red Onion (cut into eighths)
1 x Green Chilli (deseeded & chopped)
6 x Cherry Tomatoes
Soy Sauce (to drizzle)
– Method
1. Heat the oven to 200C (fan-assisted)/Gas 7 and heat up a roasting tin
2. Place the tuna steak in a bowl with the sesame oil, garlic and the leaves from a thyme sprig
3. Add the potatoes, red onion, chilli and peppers to the hot roasting tin and coat with the olive oil
4. Place the roasting tin back in the oven for 20 minutes, turn half-way through.
5. Add the thyme to the roasting tin then add the tomatoes and cook for a further 5 minutes
6. During this time, heat a griddle pan to a very high heat
7. Wipe the marinade off the tuna steak and sear for 45 seconds on each side (for rare) or 1 minute on each side (for medium-rare).
8. Place the vegetables from the roasting tin on a warm plate and add the tuna steak on top
9. Drizzle with the soy sauce