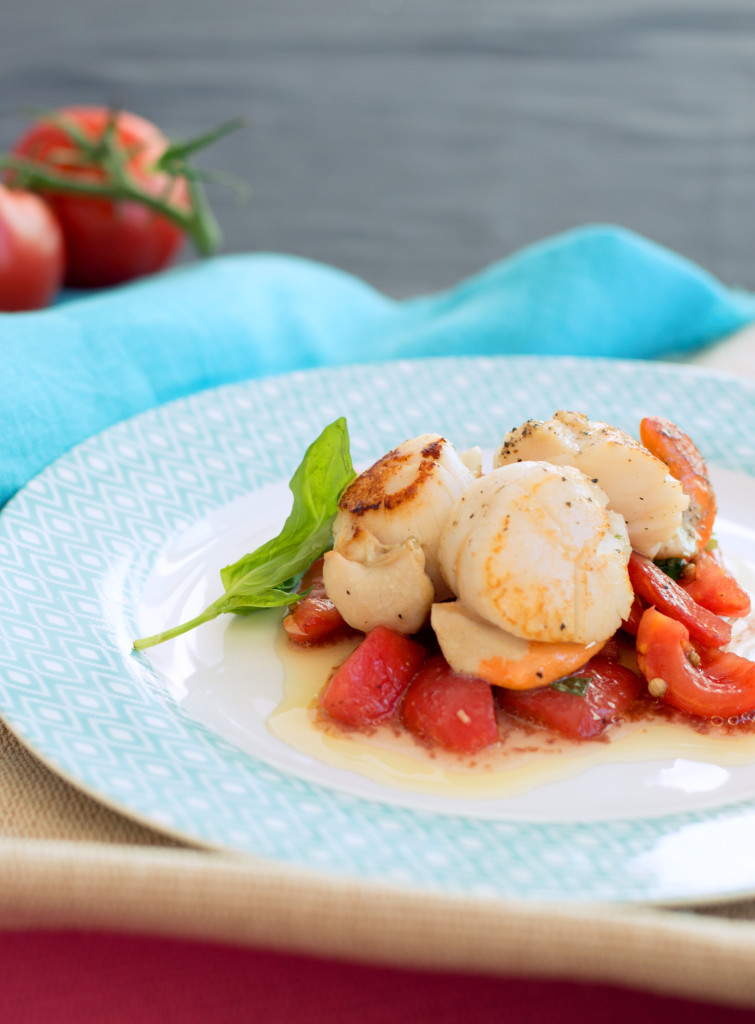 About a year ago I had never even heard the term 'Scallop' and yet now I absolutely adore the taste and adaptiveness of this beautiful seafood dish. Scallops can be paired with so many different flavourings and are also so simple to cook, you really can't go wrong! (unless of course you overcook them!) 
The key is to place them in a very hot pan and in a clockwise direction so that you know which turn over first. People often remove the roe (the orangey bit that's attached) before cooking, however this is just as edible and tastes great too. 
Vierge is similar to a salsa and works very well by bringing a real freshness to the scallop dish. A perfect starter to enjoy!
50ml Olive Oil
1 Garlic Clove (crushed)
1 teaspoon Coriander Seeds (left whole)
4 Medium Tomatoes (on the vine)
3 tablespoons Red Wine Vinegar
Handful of Fresh Basil (roughly chopped)
Freshly Ground Salt & Pepper
6 Large Scallops (with Roe)
Extra Virgin Olive Oil
Serves 2  |  25 Minutes
Heat a medium-sized saucepan on a medium heat and add the olive oil.
Add the garlic and coriander seeds and after a few minutes of sizzling, remove the pan from the heat and set-aside to infuse.
Remove the tomatoes from the vine and make a large cross at the bottom of each tomato. Place in a large bowl and carefully pour boiling water over the tomatoes. Leave for 30 seconds.
Disperse the boiling water carefully and rinse the tomatoes under cold water for 10 seconds to immediately cool them.
Peel the skins and halve each tomato. Using your hands or a small spoon, remove the seeds and roughly chop. Place in a small bowl.
Add the red wine vinegar to the tomatoes along with the infused oil, fresh basil and season with salt and pepper. Mix through with a spoon and set-aside for 15 minutes in the fridge. 
After 15 minutes remove the bowl from the fridge. Heat a medium frying pan with some olive oil on a high heat. When the pan is very hot season the scallops with salt and pepper and add them for 1 minute, then cook for a further minute on the other side. 
Whilst the scallops are cooking place two large spoonfuls of the tomato vierge in the centre of a plate, then add three scallops and sprinkle with a little extra virgin olive oil, repeat on the other plate and serve right away.