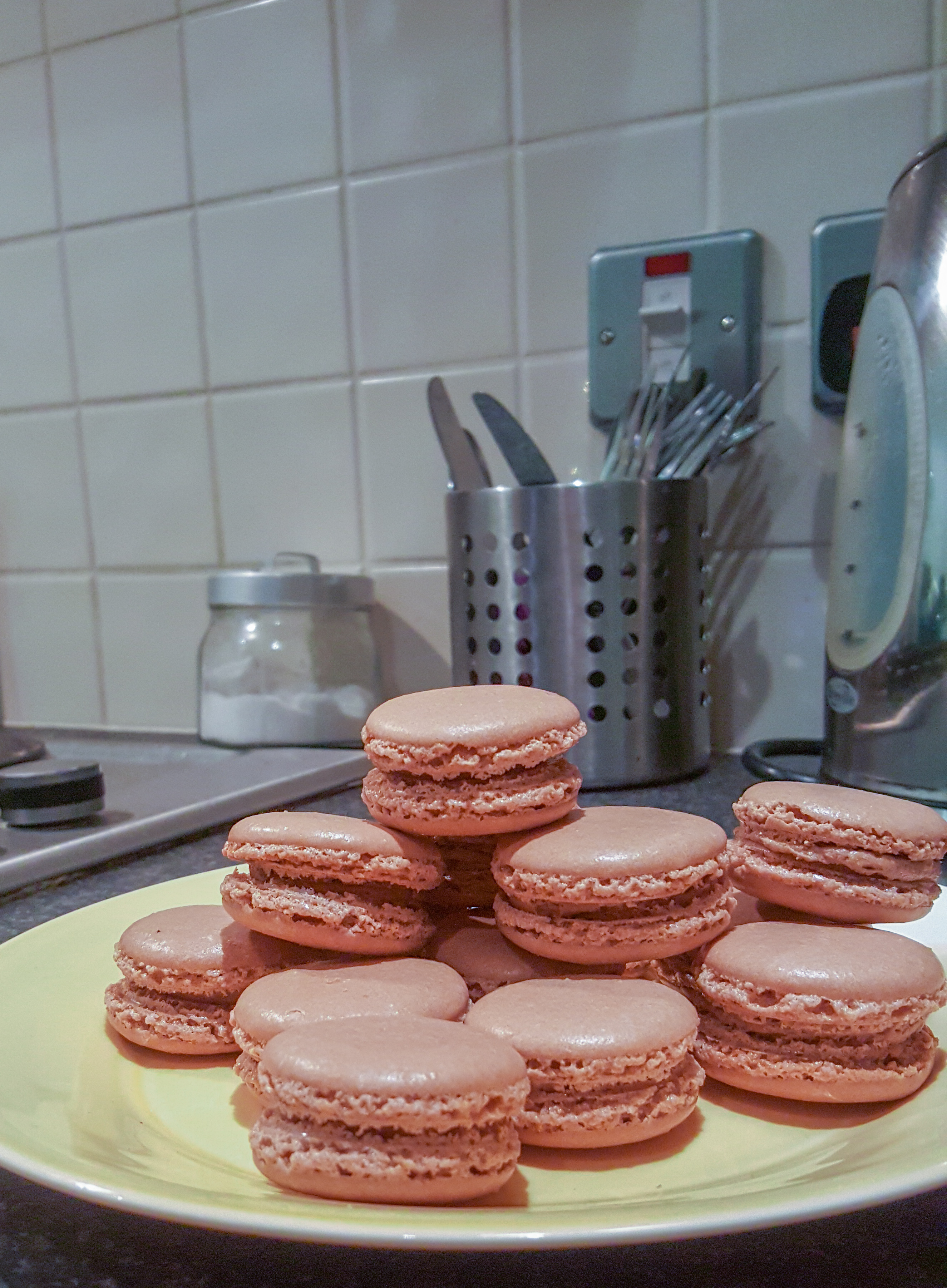 One of the best things about my trip to Brussels last year was my discovery of French Macaroons. They were literally everywhere so I had to try one and see for myself what all the fuss was about. 
I was so impressed with the wide range of colours that were so pleasing on the eye, not to mention that every one of them had it's own unique flavour. 
The taste was pure indulgence. Despite them being small they pack a huge punch of flavour with their soft meringue texture. I vowed at that point that no matter how difficult they were to make I would learn to master them. 
People talk about how amazing cupcakes are but I believe these are the real showstoppers. I'll admit they're not the easiest to make but if you're determined enough you'll get there. It took me 3 tries before I got what I needed.
So I've included detailed step-by-step instructions that if you follow, you should be fine. This is my Christmas gift to you guys! Happy Holidays! 
Makes 20 Macaroons  |  Prep 50 Mins  |  Baking 15 Mins
175g Icing Sugar
125g Ground Almonds

3 Large Egg Whites (at room temperature, helps create a fluffy, stiff-peaked egg white)
75g Caster Sugar
Pinch of Salt
6-7 Drops Brown Food Colouring
2-3 Drops Chocolate Extract
For The Nutella Filling
150g Unsalted Butter (break into small pieces)
150g Icing Sugar
5 Tablespoons of Nutella
Combine the ground almonds and icing sugar in a large bowl, mix well with a spoon then run through a sieve into a separate large bowl. This will help make the macaron light and smooth. 
In a separate bowl, whisk the egg whites to form stiff-peaks, then add the salt followed by the sugar and whisk again for a further minute (at this point separate the meringue mixture into a different mixing bowl if adding a different flavour/food colouring combination). 
Add the food colouring and chocolate extract, then slowly incorporate with a metal spoon (it's better to add more than the desired amount of food colouring as the macaroons will lose some colour during baking). 
Now add half the almond and icing sugar mixture to the meringue and mix well with a wooden spoon, then add the remaining half (be careful not to undermix as it will crack once baked). The batter will be mixed enough when you can no longer see any of the almonds clearly and it's at a 'dropping-consistency'.
Transfer the batter to a piping bag that's fitted with a 1cm/large nozzle. Lline two large oven trays with baking sheets and draw 1cm circles or use a silicon macaroon mat. 
Pipe out from the middle about 1 inch mounds onto the sheet (about the size of a 2 pound coin). 
Next, pick up the tray and drop it back onto the surface to release all of the air, flip the tray around and repeat (you should see little air bubbles pop). Do this 3-4 times to ensure all the air has disappeared. 
Leave the trays out for 30 minutes (if you bake them right away they will spread out instead of rising up).
With 10 minutes remaining, pre-heat the oven to 140C (fan-assisted) then when the 30 minutes is up, bake the macaroons for 15 minutes. Be careful not to underbake or they will stick to your tray. 
Meanwhile make the Nutella filling. To a large bowl add the unsalted butter, along with the icing sugar and whisk to a crumb-like consistency.
Next add the Nutella spread to the bowl and whisk until you have a smooth mixture. 
Transfer it to a piping bag that's fitted with a slightly smaller nozzle (1/2 inch).
When the timer is up place the oven tray on a clear, heat-proof surface and leave to cool for at least 15 minutes.
Remove the macaroon shells by carefully twisting them first before lifting them away from the baking sheet. 
Fill both shells with about 1/2 inch of the filling (fill from the centre and leave a small gap to allow the buttercream to spread out without overflowing). Attach both halves together and leave to set on a wire rack for at least 20 minutes. 
If you're not eating them right away, keep refrigerated.