What Equipment Do You Need To Get Ripped At Home?
Many people ask themselves if it's possible to get ripped at home. Getting a good physique is not only about going to a commercial gym, as people have been improving their bodies even before the gyms were invented. You can chisel the best physique at home but you will need different kinds of equipment, especially as you get more advanced.
In short, what you need for a complete home workout is:-
A Weight Bench
Different Weights and Racks (barbell, dumbbells, plates, medicine ball etc.)
A Stability Ball and Resistance Bands
An Exercise Bike
Fitness Clothing

The versatility of a weight bench
Many people still associate weight benches with bodybuilding. Fitness, however, has evolved and using a weight bench is like having a versatile tool for many types of exercises. A weight bench at home also means you won`t have to improvise with different chairs from your house and risk any injuries.
Weight benches can be used to train various muscle groups which include: chest, shoulders, back, abs and even legs. You can train most of the major muscle groups of the body just by using a couple of dumbbells and a weight bench. A weight bench is equipment which can be used for a long period of time and it provides a good return on the investment as you can rotate exercises to perform new workouts every week.
Weights will challenge your muscles
If you are serious about getting ripped at home you need to add some weights into your fitness routine. Sure, you can get to a decent level of fitness by performing bodyweight exercises, but you need to make sure you add resistance training to develop your muscles and strengthen your joints.
There are multiple weights to choose from and this is where it might get confusing, especially for beginners. A good set of weights should include various dumbbells which can be used to perform multiple exercises. The best way to keep these weights organized is with a dumbbell rack. The best dumbbell racks can help you organize different types of weights.
Kettlebells also offer plenty of versatility for many exercises and you can include them both in muscle building workouts and in cardio routines for burning body fat. A medicine ball can also be used for abdominal training and in circuit-style cardio training and it might be worth getting a few different sizes for various muscle groups.
If you need something a bit more comfortable which can focus on your overall toning, you can get a Bulgarian bag. It can help you perform functional core exercises but it can also be used for leg workouts. Most of these bags come with padding and they are not as uncompromising as regular, steel, weights.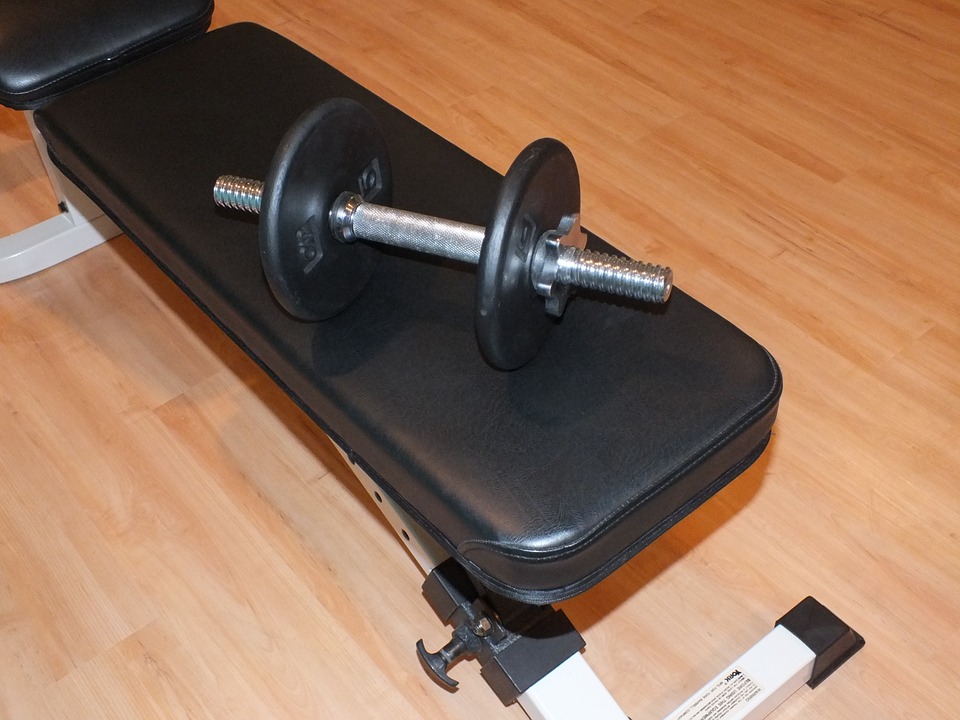 Get functional with a stability ball
Having a stability ball opens up new opportunities for functional exercises. Some of the best physiques can only be achieved with a well-balanced body with no mobility issues. If you want to improve your health and develop a strong body with good joint mobility you need to include these types of functional exercises into your weekly routines.
You can also perform stretching routines using a stability ball. Stretching is crucial for your fitness routine so make sure you take time to perform regular stretching before and after a challenging workout.
An exercise bike for losing fat
One of the simplest ways to lose body fat is to start cycling. An exercise bike is a great tool for this purpose. Unlike running which might hurt your knees on the long term, cycling can provide a good alternative which is safe and effective. Some days you might not be willing to perform a full body workout and cycling is perfect to reach your recommended daily exercise target.
An exercise bike can also be one of the simplest ways to get all of your family members involved into fitness. Make sure you look for a bike with adjustable resistance which can monitor your calories also. This will help you keep track of your fitness progress.
Compression clothing to improve oxygenation
One of the best ways to get in the right mindset with exercising is with the right clothing. Apparel might not be that important when you train at home but you can actually perform better with certain types of clothing.
For example, compression shirts can help you improve your workouts. They can help with reducing muscle fatigue during workouts. Compression shirts have been used by professional athletes with venous insufficiency as they can help improve blood flow. Compression shirts can also keep your muscles warm as studies show this is crucial when it comes to injury-prevention.
In the end, compression shirts can help with muscle oxygenation which should be a good indicator on how serious you are about your fitness goals. Muscle recovery is one of the biggest issues for most people and you should consider it as a top priority on your fitness journey. The best compression shirts can be found here.
Getting ripped takes time and you need to be patient, work hard and maintain good nutrition. You also need to ensure you get all the equipment you need, especially when you train at home and need to plan everything yourself. Finally, you need to remember you can buy all the gear on the market but you only need some basic equipment like weights, a workout bench, an exercise bike and proper clothing to improve your body`s fitness levels.