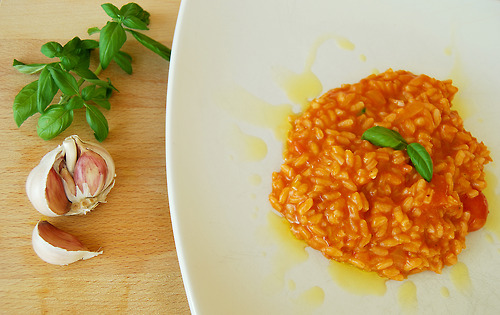 Tomato Risotto
This dish is simple to make yet tastes so fresh and delicious. I've made it several times and have never got bored of it. It's also very economical and there's usually enough for seconds or leftovers for another day. It has become one of my favourite dishes. Enjoy & Let me know what you think!

– Ingredients
1x Onion, 1x Garlic Clove, Small Knob Butter, 250ml Vegetable Stock, 500g Tomato Passata, 300g Arborio Rice, 6x Cherry Tomatoes, 100g Mozzarella, Basil (to garnish).

– Method
1) Olive Oil in Pan on a medium-high heat. Dice Onion and add to the pan with the butter.

2) Crush the Garlic and add to the pan. Cook for a further 3 minutes.
3) Add the Rice and mix well.
4) Slowly incorporate the Stock bit by bit ensuring the rice has fully absorbed the stock.
5) Add the Passata and mix well.
6) Continue to stir the contents of the pan as it can quickly catch at the bottom of the pan and burn.
7) If the sauce starts to dry out add a little hot water and re-stir so that the rice has time to finish cooking. Note:  You'll know if the rice has been cooked as there won't be any bite left when you taste.
8) Once the rice is almost ready chop the tomatoes and add to the pan, stir again.
9) Finally tear the mozzarella by hand into small pieces and add to the pan, mix well and leave for a further 3 minutes to allow the cheese to melt fully.
10) Add some basil and adjust the seasoning if necessary.
Serve with Crusty Bread, Extra Virgin Olive Oil & Salad