I know I know, it's been too long since I've produced and shared with you a vegetarian recipe.
Once upon a time all I knew was the whole 'meat and two veg' thing, yet it can be even more enjoyable (and filling!) to cook a vegetarian dish.
This Sweet Potato & Green Bean Frittata is just that and I'm confident you'll love it just as much as I did when I tucked in to it for last night's dinner.
A frittata is an egg-based Italian dish, very similar to an omelette except it's much thicker so often requires more eggs. It's more like a quiche or pie and is best served in the pan at the table.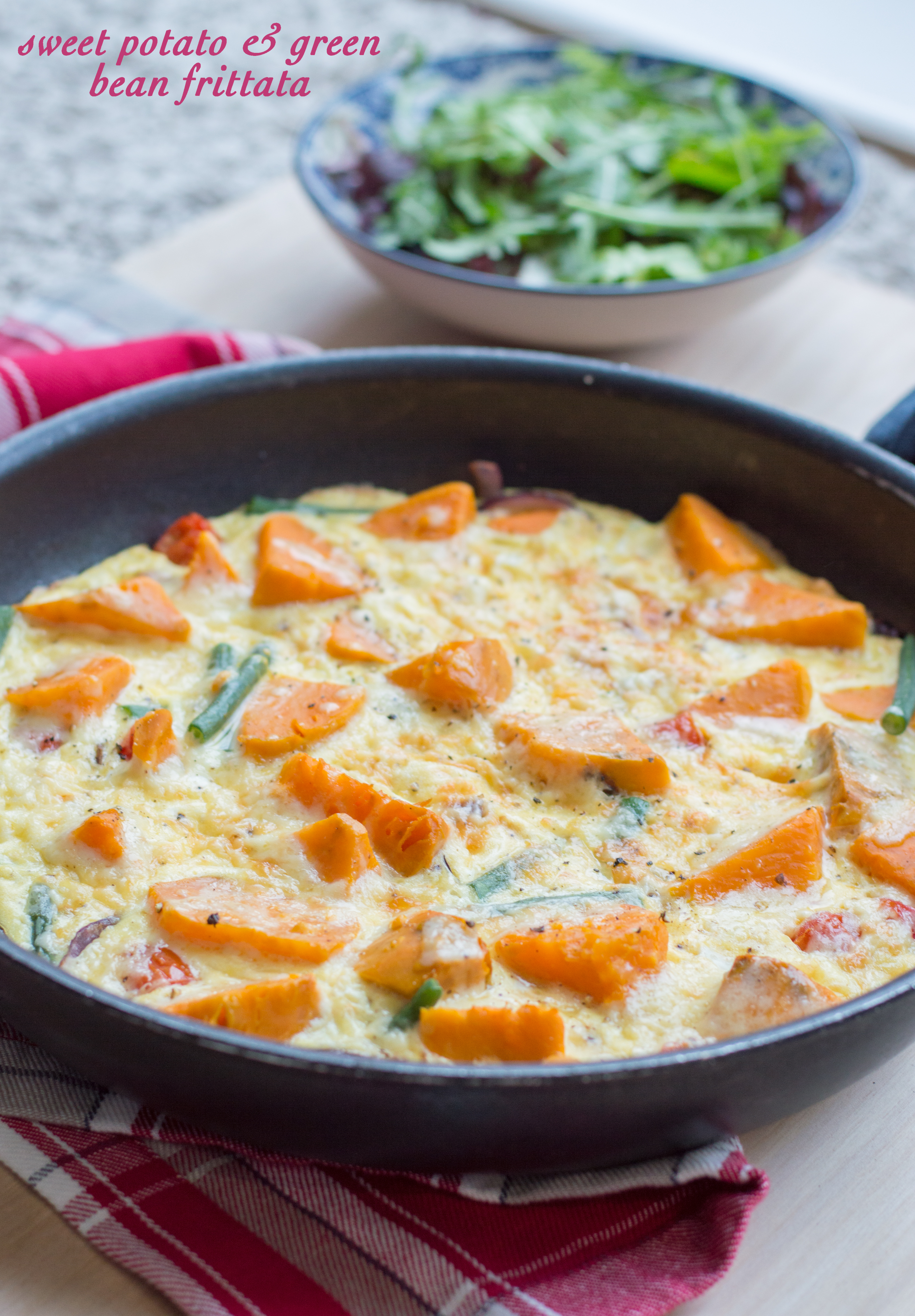 In this dish the combination of the sweet potatoes and red onion gives the eggs a real sweetness about them, not forgetting the cherry tomatoes of course!
You can always vary the veggies if you like, even throw in the leftovers you have, or need to get rid of, before they expire.
So I hope you like this delicious & very healthy recipe. As always let me know your thoughts.

Ingredients
1 Sweet Potato (peeled & cut into chunks)
100g Green Beans (halved)

2 tablespoons Olive Oil
1 Red Onion (sliced)
8-10 Cherry Tomatoes (halved)

6 Large Eggs
50g Mature Cheddar Cheese (grated, plus 30g for topping
Salt & Freshly Ground Pepper
Instructions
Place the sweet potato chunks into a large saucepan along with a good seasoning of salt. Add enough boiling water to immerse the potatoes, then boil for 15 minutes. Add the green beans when you have 5 minutes remaining, then drain.
Meanwhile add some olive oil to a large, oven-proof frying pan and place onto a medium-high heat.
Pre-heat the grill to 200C (conventional) or 180C (fan-assisted).
After a few minutes add the sliced red onion to the frying pan and fry for 5 minutes or until softened, then add the tomatoes for a further 2 minutes.
Beat the eggs into a large jug, add the cheddar, mix well and season generously.
Add the sweet potato and green beans to the frying pan along with the egg mixture.
Leave to cook the base for 2 minutes then place under the grill for 5 minutes.
Remove the frying pan and sprinkle the extra cheese and return for a final 4-5 minutes, then serve immediately.