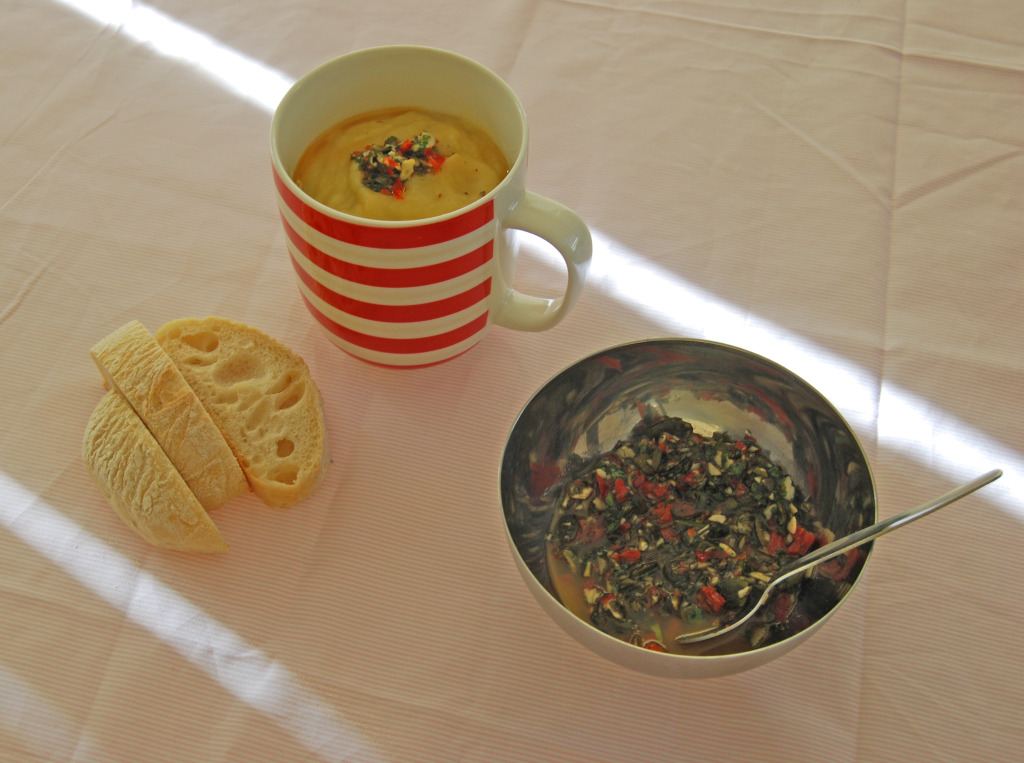 In my short (ish) time on this planet, I have grown up with some kind of allegiance to Tesco supermarkets, my Mum went, so I went and continue to go due to it's convenience to where I live and usually I'm not disappointed so why stop? I've started picking up their Food Magazines that get published once a month with a range of delicious recipes to try out.
If you're anything like me though, you'll collect the food magazine, think a particular recipe is a good idea but end up forgetting to actually attempt it. Well, not anymore! I've got myself a basic folder and by physically tearing the pages out and storing them in my 'Recipes To Attempt' folder, I am now giving them a try.
After all, the simplest ideas are usually the most effective! So today's recipe comes from the Tesco Food Magazine's October edition and is perfect for a 'cosying up' Winter's evening in, as it's guaranteed to warm your socks up as it's served with a Chilli & Coriander Pesto which compliments the soup perfectly. Enjoy!
(Serves 2 with some leftovers!)
1 tbsp x Olive Oil
1 x Celery Stick (finely chopped)
1 x Garlic Clove (finely chopped)
1/2 x Onion (finely chopped)
1 tsp x Ground Coriander
1 tsp x Ground Cumin
500g x Parsnips (chopped)
1 litre x Chicken Stock (or Vegetable for Vegetarians)
Freshly Ground Salt & Pepper
(For The Pesto)
1 x Red Chilli
50g x Fresh Coriander (leaves only)
4 tbsp x Extra Virgin Olive Oil
4 tbsp x Pumpkin Seeds
– Method
1. Heat the olive oil in a large saucepan over a medium heat and add the celery, onion and some seasoning. Cook for 4 minutes until the ingredients in the pan have softened.
2. Add the garlic and the spices and continue to fry for a further 2 minutes.
3. Add the chopped parsnips and all of the stock. Bring to the boil quickly by increasing the heat and covering with the lid. Once boiling, reduce the heat so that the soup is simmering gently. Cook for 20 minutes or until the parsnips are tender.
4. Now make the pesto. Roughly chop and de-seed the chilli and add it to a food processor or small blender with the coriander leaves and half the pumpkin seeds. Add the extra virgin olive oil and whizz until you get a pesto-like consistency (see photograph). Add more oil if necessary.
5. Once the cooking time has finished, remove the saucepan from the heat and leave to cool for 5-10 minutes. Carefully with a stick blender (ensure the stick is fully submerged), blend until the soup is smooth. If it is too thick, add additional stock.
Serve in bowls or mugs and add a spoonful of the pesto on top.