After a wonderful Easter break here we are again, back with a brand new recipe! Over the Easter break we put up the magnetic knife rack and it's created soooo much more space across the work surface (got to love Ikea!) and the kitchen looks much more professional too.
My plan is to keep everything moving forwards, so the gym 4-5 times per week, as well as create and publish around 3-4 new recipes each week (oh and continue with my full time job also!).
Thankfully there's less products in my pipeline to review at the moment which means I can keep my focus on the new recipes which you can be shared with you guys!
Today's recipe is an asian-inspired Salmon dish. It has the most wonderful taste and is so easy to put together, it's difficult to go wrong!
I feel like it's been a while since I've cooked Salmon but after finishing this I was immediately reminded of why I fell in love with it so much. The taste, the texture and how good it is for you. So give this a try, it takes about 15 minutes and it's on the table.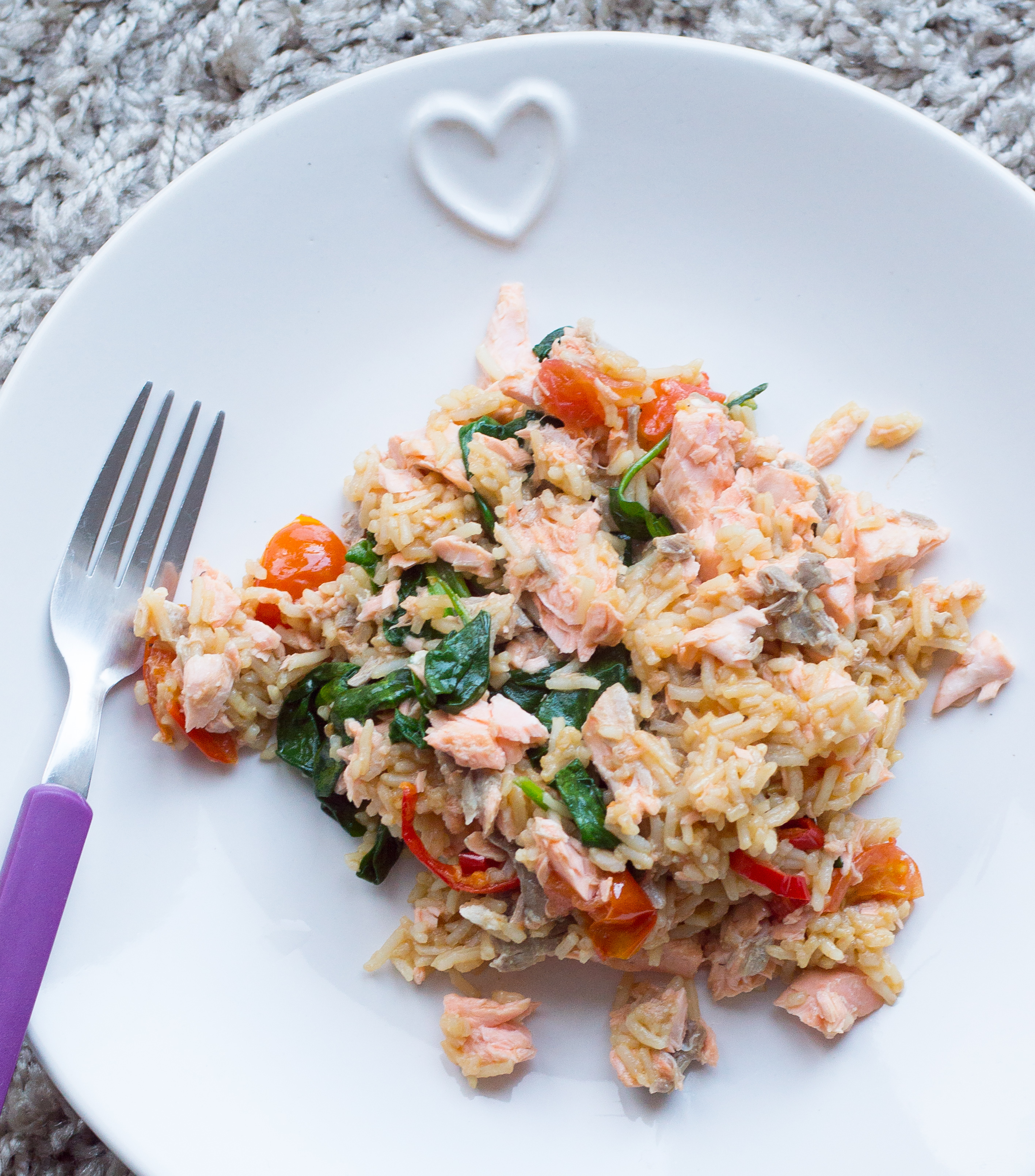 If you're not a fan of Salmon you can swap it for another fish, or omit the fish altogether and add a few more veggies to the mix. Enjoy!

Salmon & Miso Rice
Ingredients
2 Salmon Fillets
Olive Oil
Salt
1 Cup Basmati Rice
2 Cups Cold Water
Salt
1 tablespoon Soy Sauce
1 teaspoon Extra Virgin Olive Oil
1 teaspoon Sesame Oil
1 teaspoon Miso Paste
Olive Oil
Cherry Tomatoes (quartered)
Salt & Black Pepper
½ Red Chilli (sliced & deseeded)
Baby Spinach
½ teaspoon Miso Paste
Instructions
Pre-heat the oven to 220C (200C fan-assisted).
Place each piece of salmon in it's own individual foil parcel with some salt and olive oil then put into the oven for 12 minutes.
Meanwhile add the rice to a medium-sized saucepan with the water, some salt and the soy sauce.
Bring the contents to the boil then reduce to a low setting and simmer for 10 minutes or until the water has fully absorbed.
Next heat a frying pan with some olive oil on a medium setting.
Add the cherry tomatoes with some salt and black pepper then add the chilli.
With 2 minutes remaining, add the baby spinach along with the miso paste and mix well.
When the rice has cooked through remove the lid and add the extra virgin olive oil, sesame oil and miso paste and stir.
Remove the salmon from the oven and flake it up in a large bowl with the vegetables and rice, then serve.