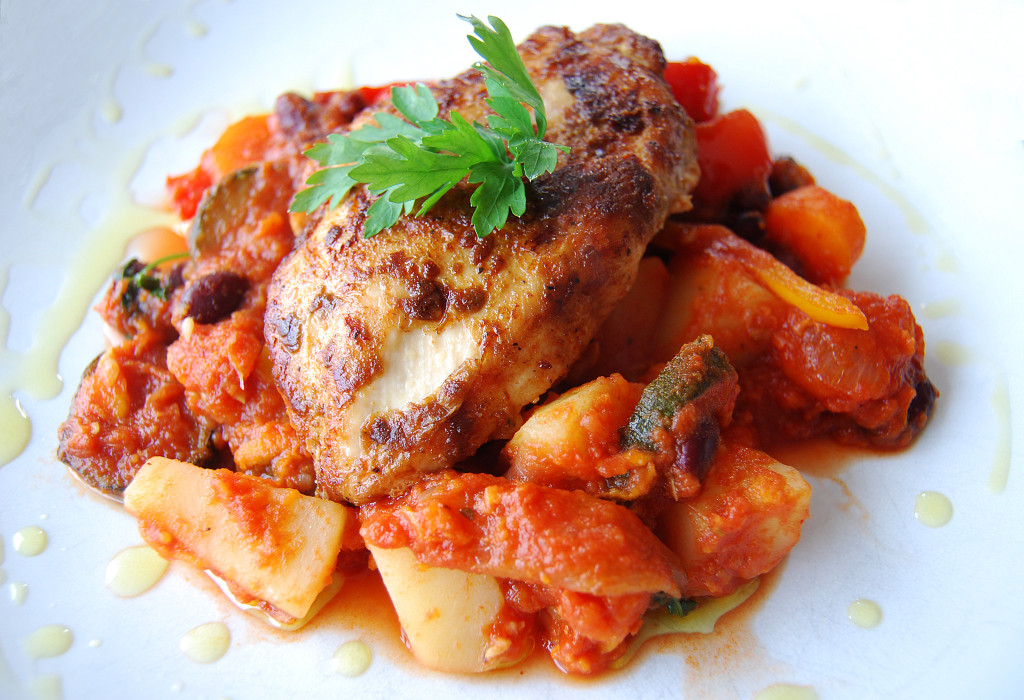 I was starting to come to the last few items in my store cupboard and really needed to go out and do a big shop, but after such a painful morning of gym classes, the last thing on my mind was to visit the supermarket and deal with the Saturday Rush. So I thought to myself 'hmmm what can I make tonight that I'll enjoy with what I've got available?'
The old me would have given up and resigned to an unhealthy takeaway that I'd have only ended up regretting. Plus it's expensive; I mean I could feed myself for a good 3 to 4 days with the money I spend on somebody delivering a meal to me.
I remembered my girlfriend's Vegetable Casserole dish that I've always enjoyed and decided on that, however, as I had some chicken thighs in the freezer, I decided to incorporate them for a meat version.
By using similar spices and herbs as a marinade for the chicken, it blends with the casserole really well.This dish is delicious either with or without the chicken. If I make it without the chicken I always add some crunchy Ciabatta bread to mop up the sauce! It's cheap, very adaptable to what you've got in stock and tastes lovely.

Serves 3-4
– Ingredients (for the Casserole)
1x Onion
1x Sweet Potato
1x Baking Potato
1x Carrot (large)
1x Courgette
1x Pepper (red or yellow)
½ x Punnet Cherry Tomatoes (halved)
½ x Kidney Beans (tinned)
500g Passata
1x Garlic Clove (crushed)
½ x Vegetable Stock Cube
½ tsp x Smoked Paprika, Ground Cumin, Dried Oregano
Flat-Leaf Parsley (small bunch)
Salt
Pepper
Sugar
Extra Virgin Olive Oil (to drizzle)
(for the Paprika Chicken)
Chicken Breast (1 per person)
or Chicken Thighs (2 per person)
½tsp x Paprika, Cayenne Pepper, Ground Cumin
– Method
Cut the onion, potatoes, carrots, courgettes and pepper into large chunks

Par-boil the potatoes and carrots in salted water

Fry the onion, courgette and pepper until soft

Crush the garlic into the pan

Dissolve the stock cube into 200ml of boiling water and add to the pan along with the passata

Add the spices and oregano, along with a little sugar to the pan

Season with salt and pepper to taste.

Add the par-boiled potatoes and carrots, along with the tomatoes and kidney beans to the pan

Add the parsley (reserve some to garnish)

Simmer until all of the vegetables are soft

Drizzle with good-quality extra virgin olive oil
For the Paprika Chicken
Season the chicken well with salt and pepper along with the spices. This can be done at the start, before you begin chopping the veg.
With 20 minutes remaining on the casserole, heat a medium-sized frying pan with oil and when very hot add the chicken, turning regularly until cooked (usually 15 minutes for chicken breast and 18 minutes for chicken thighs)
Serve on top of the casserole