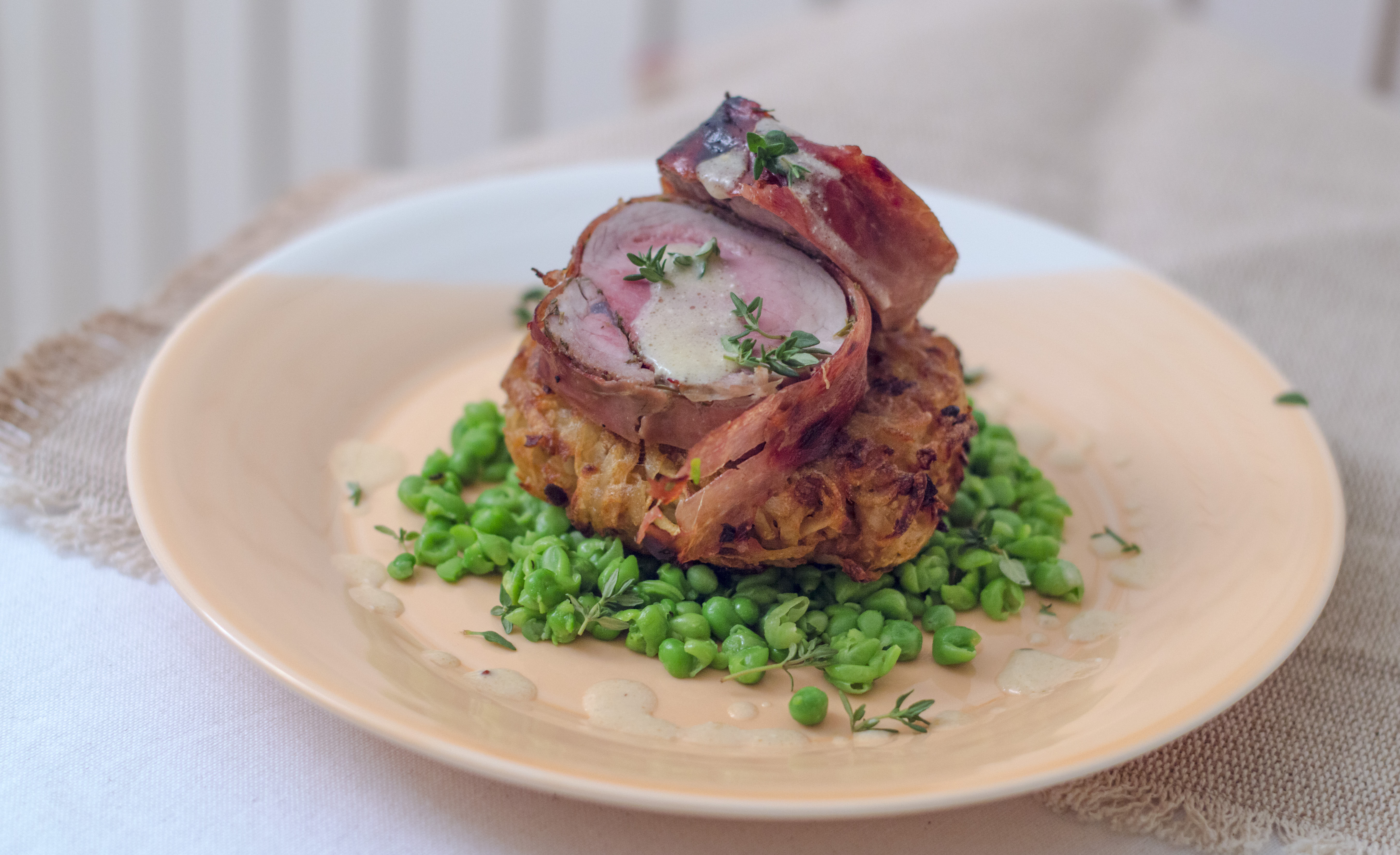 Whenever I cook with pork I often end up asking myself 'why don't I cook with it more often?' –  especially with a pork tenderloin as they are cheap to buy and go very well with a number of sauces and spices. 
Today's recipe, 'Herby Pork Tenderloin' provides exactly that, a delicious combination of a creamy white sauce that goes perfectly with the herb-infused pork, and served on a bed of thyme-flavoured peas.
A word of warning though about how much the pork should be cooked: This dish is best served pink as any longer and it starts to go on the chewy side, which no amount of sauce can bring back! Enjoy 🙂
Serves 2  |  Prep 20 Mins  |  Cooking 30 Mins
1 Pork Tenderloin Fillet
2 tablespoons Herbes de Provence 
5 Slices of Prosciutto
2 tablespoons Honey
Olive Oil (for drizzling)
The Sauce
50ml White Wine
250ml Chicken Stock
4 tablespoons Honey & Mustard Dressing
3 tablespoons Créme Fraiche
The Potato & Apple Rosti
2 Large White Potatoes (peeled)
2 Granny Smith Apples (peeled)
1 tablespoon Horseradish Sauce
Plain Flour (for dusting)
300ml Sunflower Oil
Garden Peas
Knob of Butter
Thyme Sprigs
Pre-heat the oven to 200C (for fan-assisted, increase the temperature by 20C for traditional ovens).
First make the rosti by squeezing out the apple and potato juices (use muslin cloth if possible as it works best), then add the horseradish and some seasoning.
Shape into small rounds and dust with flour, then leave to one-side for now. 
On a chopping board, add the honey to the tenderloin along with the herbes de provence and rub over all sides, then place the prosciutto slices underneath the tenderloin and fold over fully.
Place the tenderloin inside a large enough roasting tin, drizzle over a little oil and cook for 16 minutes (turning halfway). 
Once the time is up, remove the tenderloin and place into foil, wrap tightly and leave to rest for 10-15 minutes. 
Heat a large saucepan on a medium-high heat with enough oil to cover the rosti, once the oil is at a temperature in which you could drop a very small piece of bread and it would bubble to the surface, carefully add the rosti rounds, cook for 10 minutes, turning halfway. 
Meanwhile make the sauce by adding the wine to a medium-sized pan on a high heat and leave to simmer for a minute. 
Add the remaining sauce ingredients and mix well with a wooden spoon, then cover the pan and reduce to a thickened consistency. Once this has been reached, set-aside. 
Cook the peas according to packet instructions then place in a small bowl with the butter and thyme sprigs, then with the back of a fork slightly crush them. 
Slice the tenderloin into thick pieces and assemble on top of the crushed peas and a potato roost, then drizzle over the creamy sauce and serve.