[ RECIPE ] Baba Ganoush & Halloumi Pittas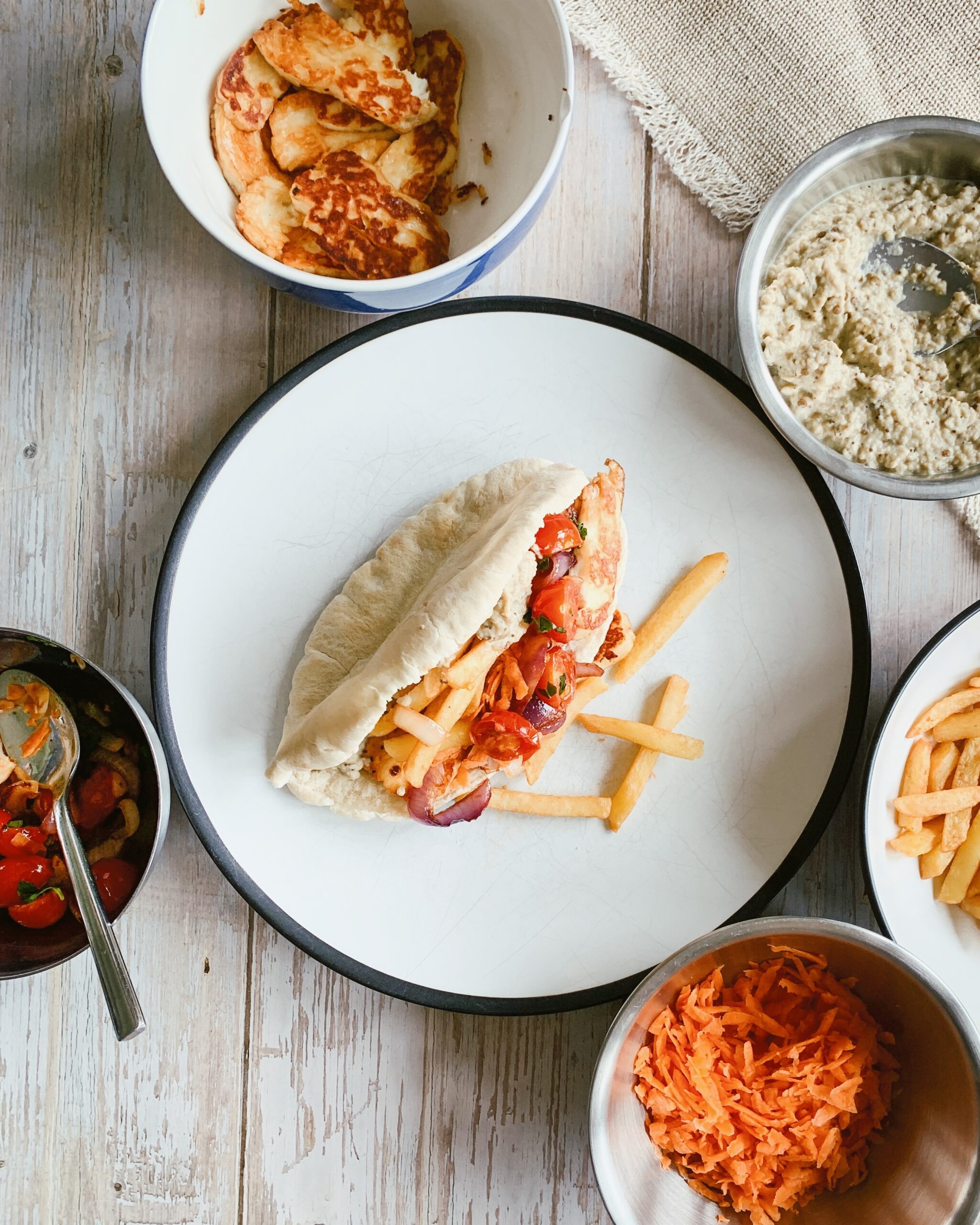 ▪️2 Aubergines⁠
▪️Frozen Chips⁠
▪️2 Garlic Cloves⁠
▪️1 tablespoon Olive Oil⁠
▪️1 Red Onion (sliced)⁠
▪️Small Handful Fresh Mint (chopped)⁠
▪️200g Halloumi (sliced)⁠
▪️2 tablespoons Tahini⁠
▪️Juice of 1 Lemon⁠
▪️Salt & Freshly Ground Pepper⁠
▪️1/2 teaspoon Ground Cumin⁠
▪️1/2 teaspoon Paprika⁠
▪️6 Pittas⁠
Pre-heat the oven to 200C. Prick the aubergines a few times with a fork or sharp knife. Once the oven is hot enough add the aubergines to a baking tray and bake for 1 hour. ⁠
After 40 minutes remove the aubergine tray and add the garlic cloves, then return the tray to the oven. At the same time place the oven chips on a separate tray and bake for the 20-25 minutes until cooked. ⁠
Meanwhile place a small frying pan on a medium heat and add the olive oil. Once hot add the sliced onions and fry for 5 minutes, then add the cherry tomatoes for an additional 5 minutes. Place the frying pan contents into a small bowl along with the chopped mint and set-aside. ⁠
Finely grate the carrot and place in a separate bowl.⁠
Return the frying pan to the hob and place on a medium-high heat, then add the sliced halloumi and fry until golden on each side, then set-aside in a separate bowl. ⁠
Remove the aubergines from the oven. Slice lengthways to open, scoop out the cooked flesh and place into a large enough food processor or blender. Chop down the side of each garlic clove and squeeze out into the food processor. Add the tahini, lemon juice, spices and seasoning then blitz for 10-20 seconds until smooth. ⁠
Toast the pittas then fill each with enough baba ganoush, vegetables, chips and halloumi. ⁠
Recipe by
Food & Fitness Always
at http://foodandfitnessalways.com/recipe-baba-ganoush-halloumi-pittas-9103/