(RECIPE) Baked Aubergine, Tomato & Pancetta with Ricotta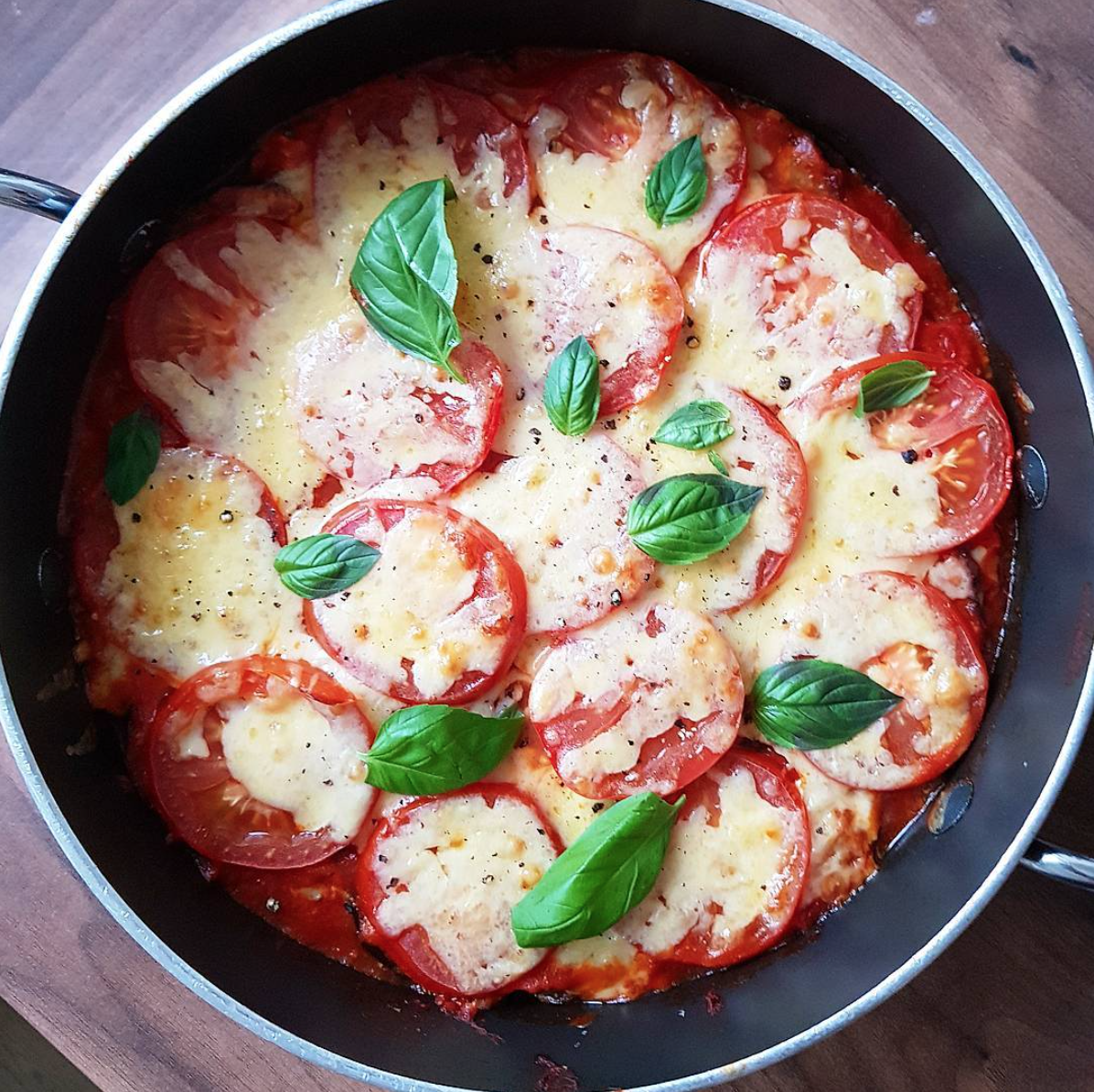 3 Aubergines
Olive Oil
2 tablespoons Extra Virgin Olive Oil
Juice of 1 Lemon
1 Onion (peeled & chopped)
1 Garlic Clove (peeled & roughly chopped)
Pack of Diced Pancetta
2 x 400g Chopped Tomatoes (good quality)
½ teaspoon Dried Chilli Flakes
1 teaspoon Dried Oregano
Pinch of Sugar
125g Ricotta Cheese
125g (1 Ball) Mozarella Cheese (torn into small pieces)
3 Salad Tomatoes (thinly sliced)
30g Cheddar Cheese (grated)
Garnish with Fresh Basil
Slice off the top and bottom ends of the aubergines and then slice thinly and evenly across each one.
Pre-heat the oven to 190C (conventional).
Add a little olive oil to the oven trays then place each aubergine slice on top.
Add the two tablespoons of extra virgin olive oil to a small bowl along with the juice of a lemon and brush each aubergine slice with the mixture.
Add some salt and then bake in the oven initially for 15 minutes and then once the time is up, flip the slices over, add some additional lemon juice mixture along with some additional seasoning then bake for a further 15 minutes then set-aside.
Place a large heavy-based saucepan onto a medium heat with some olive oil.
Fry the sliced onion for 4-5 minutes or until softened, then add the garlic and pancetta and continue to cook for a further few minutes.
Add both cans of the chopped tomatoes, as well as the chilli, oregano and sugar. Place the lid over the saucepan and simmer for 25 minutes.
Once the time is up remove the lid and blitz with a hand-blender until smooth then set-aside.
Spread 3 tablespoons of the tomato sauce onto an oven-proof casserole dish and add a third of the cooked aubergine slices. Add some additional tomato sauce and add a third of the ricotta and mozarella. Add some additional seasoning (including pepper this time) and repeat the process two more times with the remaining aubergine, tomato sauce and cheese.
Finally add the sliced tomato and grated cheddar cheese, bake for 25 minutes top with fresh basil leaves then serve.
Recipe by
Food & Fitness Always
at http://foodandfitnessalways.com/recipe-baked-aubergine-tomato-pancetta-ricotta-6278/