(RECIPE) Harissa-Spiced Cod Stew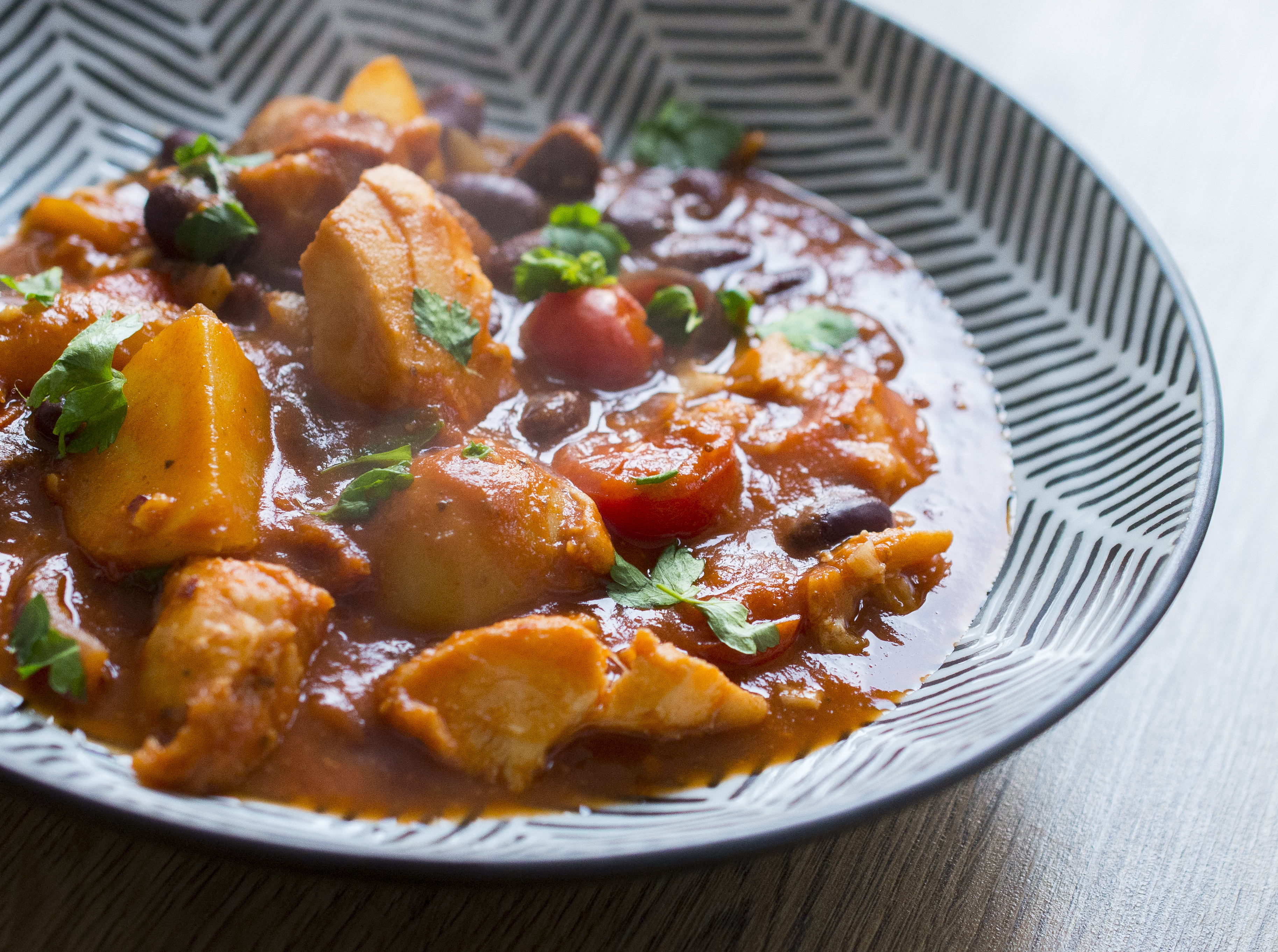 Olive Oil
1 Yellow Pepper (sliced)
1 Red Onion (sliced)
2 Garlic Cloves (crushed)
75g Pepperoni Slices (diced)
½ teaspoon Smoked Paprika
½ teaspoon Dried Oregano
¼ teaspoon Ground Coriander
2 teaspoons Harissa Paste
400g Carton of Passata
400g Can of Kidney Beans (drained)
1 teaspoon Caster Sugar
Large Handful of New Potatoes (halved)
4 Muscle Food Cod Fillets(cut into large chunks)
Salt & Freshly Ground Pepper
Large Handful of Cherry Tomatoes (halved)
Fresh Parsley (finely chopped)
Place a large casserole dish on a medium-high heat and add some olive oil.
Fry the peppers and onions until softened then add the crushed garlic for a further 1-2 minutes.
Meanwhile in a separate large saucepan add the new potatoes and boil for 10 minutes.
Add the diced pepperoni to the casserole dish along with the spices, oregano and harissa paste then mix well.
Add the passata then fill the empty carton with a small amount of hot water and add to the casserole dish.
Add the kidney beans, caster sugar, season well and then place the lid on and simmer gently for 10 minutes.
Once the time is up drain the potatoes then add them to the casserole dish along with the cod fillets and simmer for a further 10 minutes.
With a few minutes remaining add the cherry tomatoes.
Add the fresh parsley, season to taste then serve.
Recipe by
Food & Fitness Always
at http://foodandfitnessalways.com/recipe-harissa-spiced-cod-stew-5977/