Tomato & Thyme Cod Fillets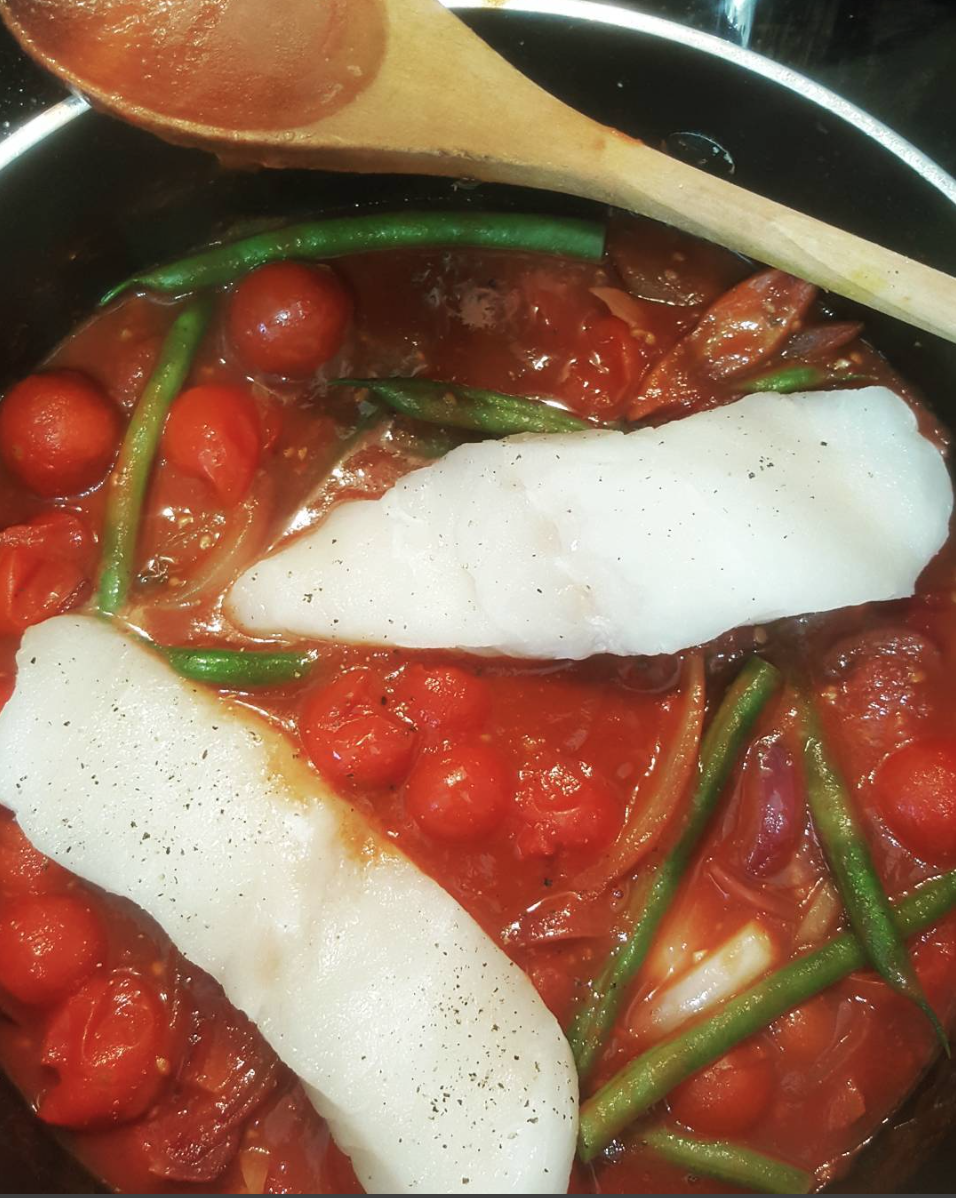 Olive Oil
1 Red Onion (sliced)
2 Garlic Cloves (crushed)
400g Can Chopped Tomatoes
New Potatoes (halved)
1 tablespoon Tomato Purée
1 teaspoon Soft Brown Sugar
1 tablespoon Balsamic Vinegar
1 teaspoon Chilli Flakes
2 Sprigs of Thyme
Handful of Fine Green Beans
2 Cod Fillets
Salt & Freshly Ground Pepper
Place a casserole dish on a medium heat with enough olive oil to cover the surface of the pan.
After a few minutes add the red onion and stir.
Once the onion has began to soften add the crushed garlic along with a good amount of seasoning. Cook for 2-3 minutes.
Meanwhile in a separate saucepan, add the new potatoes along with boiling water, bring to the boil on a medium-high heat and cook for 15 minutes with the lid on.
Add the can of chopped tomatoes into the casserole dish and then run the empty can under a hot tap until it's a quarter filled with water, swirl this around the can and add this also.
Immediately add the tomato purée, sugar, balsamic vinegar, chilli flakes and thyme sprigs, along with some more seasoning then mix well and bring to the boil by placing the lid on the pan.
Meanwhile season the cod fillets and add them to the pan along with the fine green beans.
Place the lid back on and reduce the heat to low, then simmer for 10 minutes or until the cod easily flakes away.
Carefully drain the new potatoes using a colander or large enough sieve, add them to the casserole dish, mix everything through and serve.
Recipe by
Food & Fitness Always
at http://foodandfitnessalways.com/tomato-thyme-cod-fillets-5085/