Jimmy's Budweiser Barley Summer Vegetable Risotto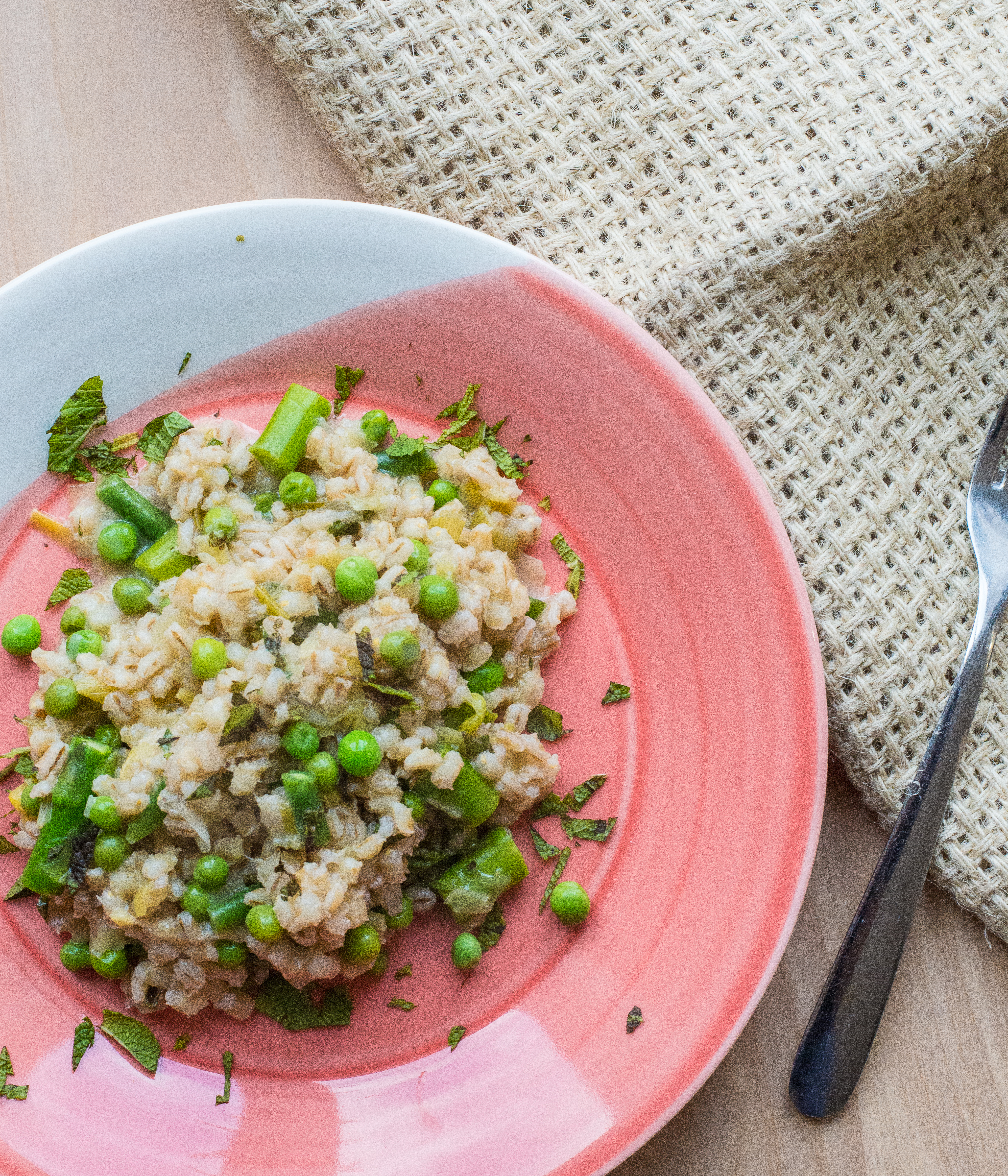 200g fresh peas in pods (podded weight)
1 tbsp olive oil
4 spring onions, finely chopped
1 leek, finely chopped
1 clove garlic, finely chopped
350g pearl barley
200ml Budweiser
100g fresh broad beans, podded
1 litre pea stock (made from the pea pods and asparagus stalks)
80g Parmesan, finely grated
2 tbsp mascarpone
250g asparagus, cut into 3cm pieces, woody stems removed & kept for the stock
1 small bunch of fresh mint, roughly chopped
Parmesan shavings to serve
Pea shoots to serve
Extra virgin olive oil to drizzle
The Pea Stock - Pod the peas and set aside.
Place the pods in a large saucepan with the asparagus stalks and cover with cold water. Bring to the boil and leave to infuse for 15 minutes.
The Risotto - Heat the oil in a large shallow saucepan. Add the spring onions and leek, cook for 3-4 minutes until beginning to soften. Stir in the garlic and cook for a further 1 minute.
Add the barley, stir well to coat in the onions. Pour in the Budweiser, cook for a further 1-2 minutes until the liquid as all but evaporated.
Add the pea stock and cook for 40 – 50 minutes, stirring occasionally, add a little more stock if the risotto starts to dry.
Cook the peas and broad beans in a small pan of boiling water for 2-3 minutes. Drain and refresh with icy cold water to stop the cooking. When cold remove the tough outer layer of the broad beans to reveal the fresh tender green bean.
Add the asparagus to the risotto and cook for 2 minutes then add the peas and broad beans.
Remove from the heat and stir through the mascarpone, mint and Parmesan. Season with salt and pepper. Spoon into bowls and garnish with Parmesan shavings, pea shoots and a drizzle of extra virgin olive oil.
Recipe by
Food & Fitness Always
at http://foodandfitnessalways.com/jimmys-budweiser-barley-summer-vegetable-risotto-4674/