Warm Chipotle Chicken Salad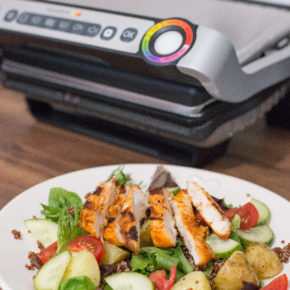 Marinade Ingredients
5 tablespoons Chilli Sauce
1 tablespoon Rice Wine Vinegar
1 tablespoon Sunflower Oil
2 Garlic Cloves (crushed)
1 tablespoon Dark Brown Sugar
2 tablespoons Smoked Paprika
2 Chicken Breasts
Salt & Freshly Ground Pepper
½ Cup Red Quinoa
8 New Potatoes (halved)
Small Knob of Butter
The Chipotle Dressing
½ teaspoon Dried Oregano
6 tablespoons Red Wine Vinegar
¼ cup Runny Honey
¼ cup Olive Oil
2 tablespoons Chipotle Sauce (we used Hellmans)
1 Garlic Clove (crushed)
Salt & Pepper (to taste)
Serve with: Mixed Salad Leaves, Cherry Tomatoes & Sliced Cucumber
First combine all of the marinade ingredients into a large enough bowl and mix well with a spoon.
Season the chicken breasts with salt & pepper, and make small cuts into the chicken which will allow the marinade to absorb into it.
Add the seasoned chicken breasts to the marinade, ensure they are well coated on both sides, then leave in the fridge for a few hours or overnight.
Whilst the chicken is marinating you can also make the dressing in advance by combining the dressing ingredients and placing in an air-tight container/bottle (you may have to give this a vigorous shake before serving as the vinegar and oils will separate if left).
When you're ready to begin, turn the optigrill on from the plug, choose the 'Chicken' setting and press OK. Wait 4-7 minutes and when you hear the buzz sound place both chicken breasts onto the bottom grill plate and close.
The Optigrill will go through the various stages of cooking and indicate to you where the cooking process is up to based on the colour, when it turns red the chicken will be cooked through and ready (usually 20 minutes depending on thickness).
(If you don't yet own the Optigrill you can pre-heat an oven grill to 200C and cook for 20 minutes or until cooked through, turning halfway)
Meanwhile boil the new potatoes and pour the red quinoa into a small saucepan along with 1 cup of water and some additional seasoning. Bring to the boil then reduce the heat to the lowest setting. Do not remove the lid during the 20 minutes of simmering.
Drain the new potatoes when ready and add a knob of butter with some salt & pepper.
After the chicken is cooked through, cut into strips and place on top of the mixed salad leaves.
Add the new potatoes, red quinoa, cherry tomatoes & sliced cucumber then serve with a good drizzle of the chipotle dressing.
Recipe by
Food & Fitness Always
at http://foodandfitnessalways.com/review-tefal-optigrill-4544/