Red Quinoa Turkey Salad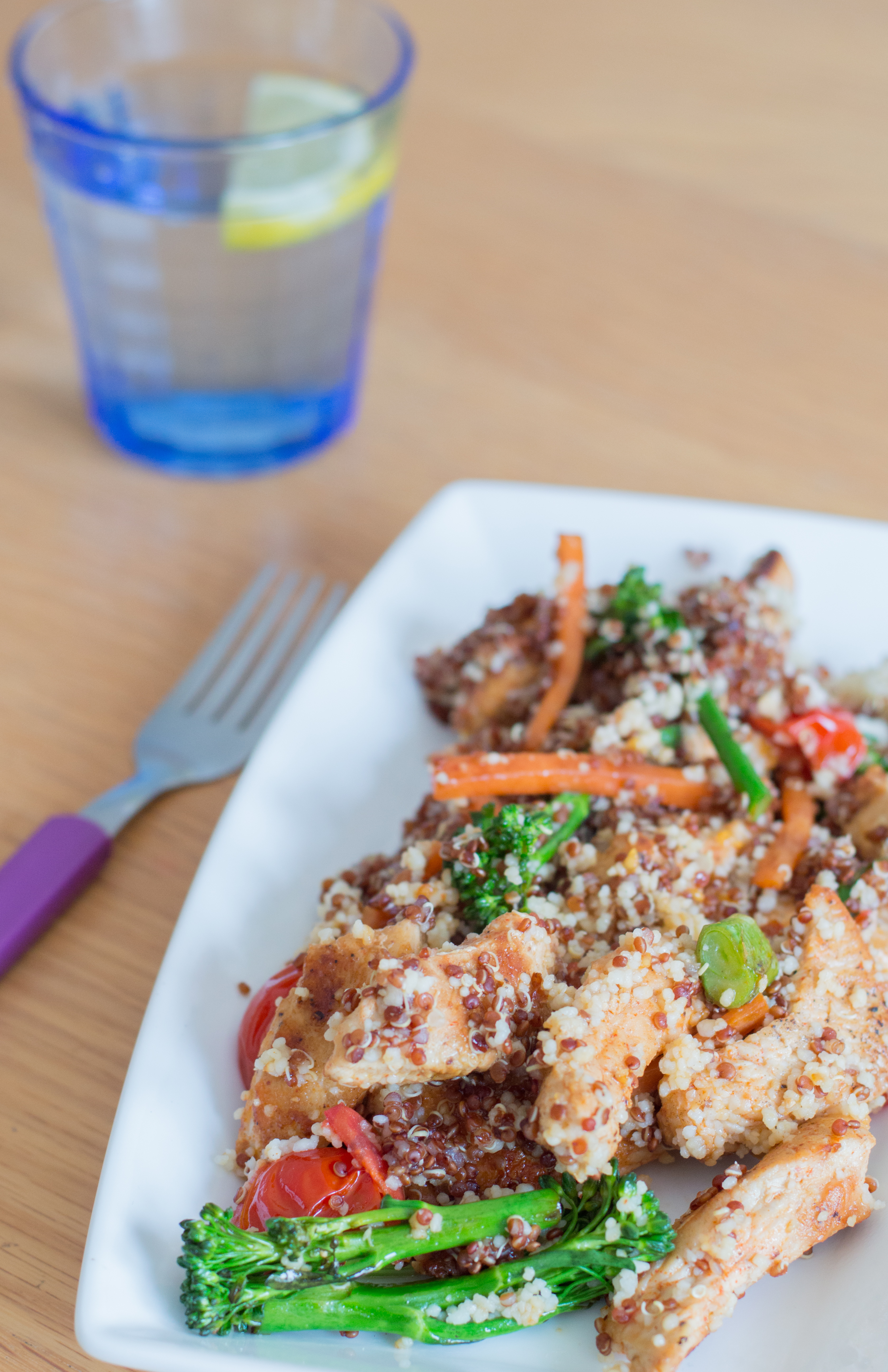 Olive Oil
2 Turkey Breasts (sliced)
2 tablespoons Smoked Paprika
Salt & Freshly Ground Pepper
1 Cup Red Quinoa
2 Cups Cold Water
3 Spring Onions (sliced)
10 Cherry Tomatoes (halved)
1 Carrot (finely sliced)
8-10 Small Tenderstem Broccoli
1 Cup Couscous
2 Cups Boiling Water
Small Handful of Mint Leaves (torn)
4 tablespoons Extra Virgin Olive Oil
Juice of 1 Lemon
Heat a large frying pan on a medium-high heat and add the olive oil.
Evenly sprinkle the smoked paprika over the turkey breast, along with the salt and pepper, then add them to the frying pan. Cook for 15 minutes or until cooked and leave to one-side.
Meanwhile add the red quinoa to a medium-sized saucepan along with the water and some seasoning.
Place the lid on and the heat to maximum and when the water starts boiling, reduce the heat to the lowest setting and cook for 18-20 minutes until almost all of the water has been absorbed.
Using the same frying pan you used to cook the turkey, add a little more olive oil along with the spring onions, cherry tomatoes, carrot and broccoli and cook for 5 minutes.
Finally place the couscous into a small bowl along with the boiling water, some seasoning and half the juice of the lemon. Cover and leave for 5 minutes.
Once everything is ready, combine in a large enough mixing bowl and add the mint leaves, extra virgin olive oil and the rest of the lemon juice and mix well then serve.