Baked Sweet Potato with Chilli Onion Salad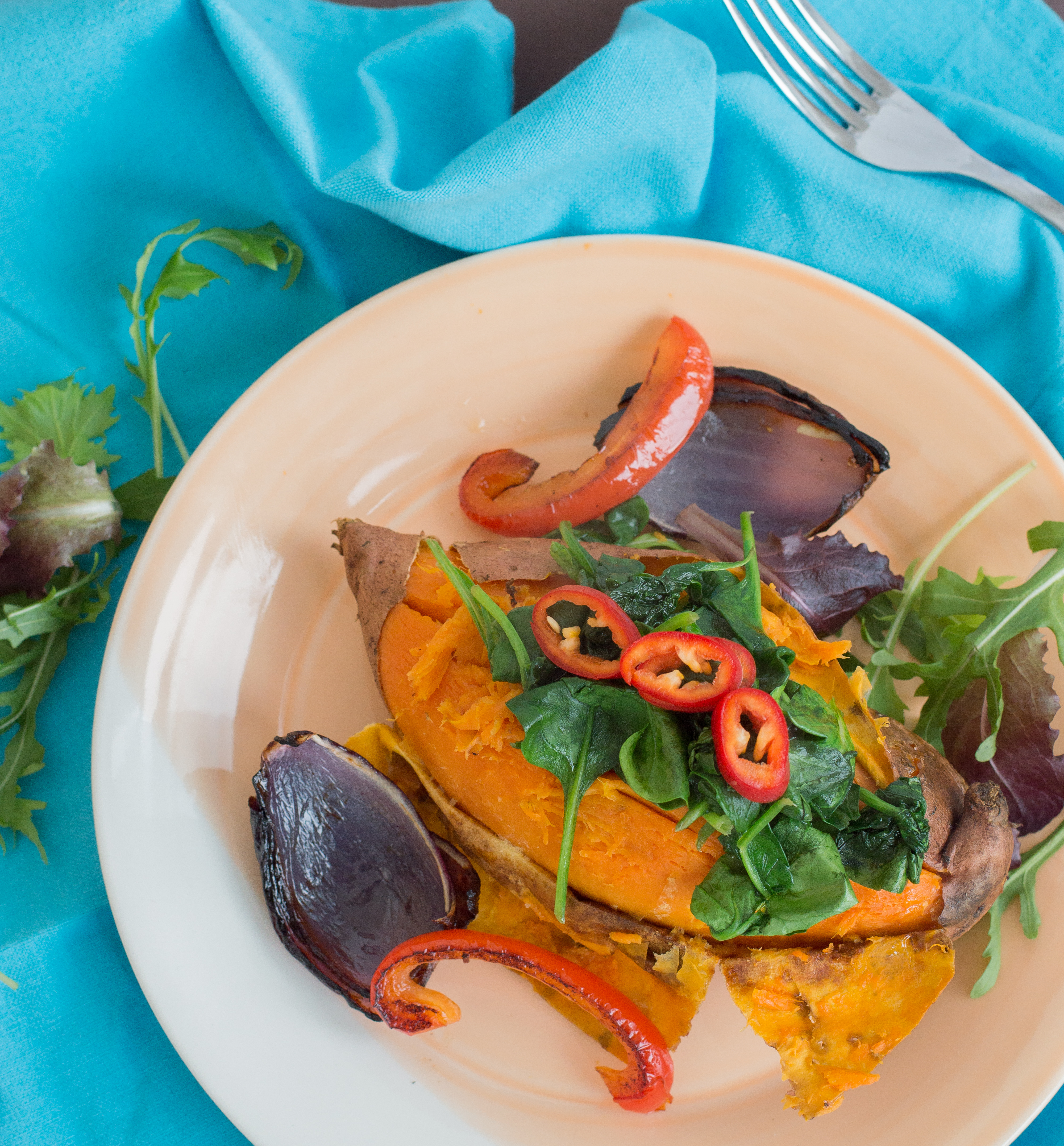 2 Sweet Potatoes (scrubbed)
1 tablespoon Olive Oil (plus extra for additional frying)
1 Red Onion (quartered)
1 Slice of Lemon
1 Red Pepper (sliced)
200g Baby Spinach
1 Small Red Chilli (deseeded & thinly sliced)
Rocket Salad Leaves
Balsamic Vinegar (to drizzle)
Pre-heat the oven to 180C (fan-assisted) and pierce the potatoes with a fork all the way around.
Place onto a baking tray and rub thoroughly with the olive oil.
Add the red onion quarters and drizzle over the juice from the slice of lemon.
Cook for 30 minutes.
After this time, remove the red onion quarters and continue to bake the sweet potatoes for a further 30 minutes.
With 15 minutes remaining, heat a medium-sized frying pan and add a little olive oil.
Cook the red peppers for 5 minutes, then add the chilli for a further 5 minutes.
Finally add the spinach and allow to wilt, then return the red onion to the pan to reheat.
Once the oven time is up, remove the sweet potatoes from the oven and carefully pierce the skin using a sharp knife to open up.
Assemble the frying pan ingredients on top of each potato and add some additional rocket leaves.
Finish by drizzling over the balsamic vinegar and serve.
Recipe by
Food & Fitness Always
at http://foodandfitnessalways.com/baked-sweet-potato-3940/