[RECIPE] Victoria Sponge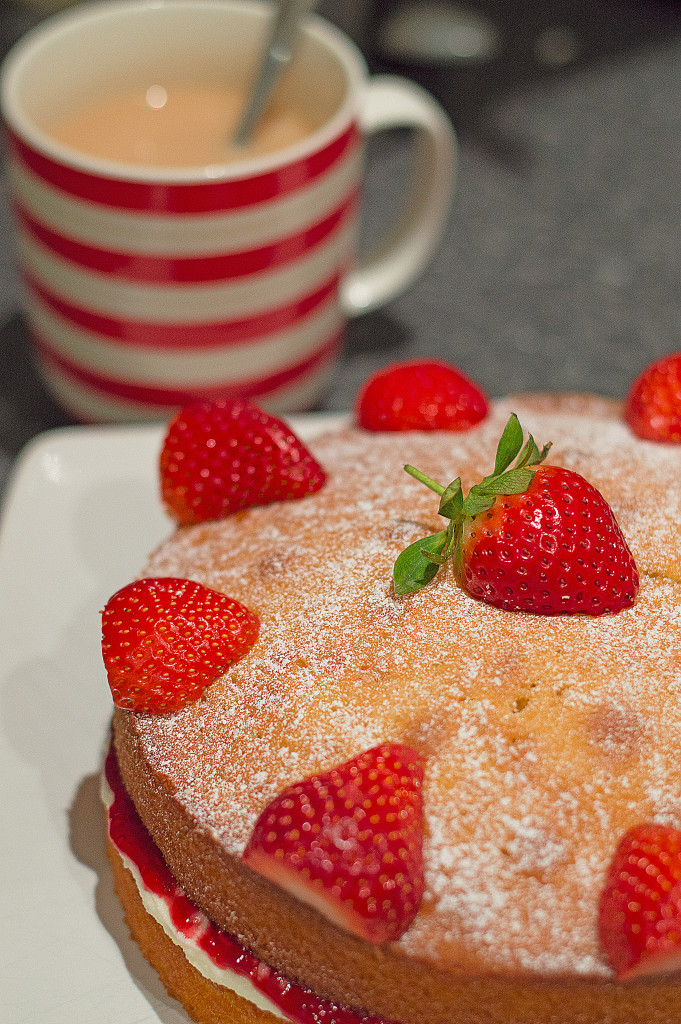 230g Unsalted Butter (at room temperature)
230g Caster Sugar
4 Large Eggs
230g Self-Raising Flour (the fresher the flour, the better the rise)
3 tablespoons Milk
6 tablespoons Strawberry Jam
100g Icing Sugar (plus extra for topping)
100g Unsalted Butter
1 tablespoon Milk
Optional: 6 Strawberries (halved)
Grease two 20cm round cake tins with butter.
Combine the butter and sugar to a large mixing bowl and using a wooden spoon, cream them together until you form a light, pale mixture. This will help make the cake much lighter.
Pre-heat the oven to 180C (conventional) and 160C (fan-assisted). In a small bowl, beat the eggs lightly using a fork, and add a quarter of the beaten egg to the mixture. Coming using an electric whisk then add more of the egg a little at a time.
Now sift the flour over the surface of the mixture and slowly fold it in using a metal spoon, then add the milk. The mixture should hold on the spoon for no longer than 2 seconds before dropping. If it is too thick add another tablespoon of milk.
Add the mixture in equal portions to the greased sandwich tins and ensure the tops are smoothed off using a spatula.
Place in the oven for 23-25 minutes but check it after 20 minutes just to make sure it's not over-cooking. Once the mixture has risen and is slightly golden on top, it will be ready to remove from the oven.
Leave the cakes to cool and after 10 minutes place them on a wire rack to finish cooling. With a serrated knife carefully chop off the peak of one of the sponges so that it's completely flat (the jam and buttercream will hide any mess!) then place the jam in a small bowl, mix with a spoon until running, then spread it over the middle of the base (it will gradually spread out).
Using an electric whisk, combine the unsalted butter, icing sugar and milk in a separate bowl, taste and adjust if necessary, then add to the jam layer, spreading the buttercream evenly.
Place the other cake on top and add a light dusting of icing sugar, along with some strawberries for decoration.